Melissa Sanderson
As postal carrier Brad Renner's socks can attest, there's some localized urban flooding in Fortuna.
Apparently, it takes more than a little localized flooding to knock the United States Postal Service off its game.
Humboldt County has been hit with a healthy dose of wind and rain over the last 24 hours, leading to some rising rivers, downed power lines and flooded streets, particularly in Fortuna and the Eel River Valley. So did postal carrier Brad Renner take the day off, figuring Fortunans would be fine getting Friday's mail on Saturday? Heck, no. He threw on some shorts and made the rounds.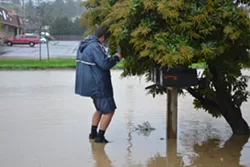 Melissa Sanderson
Fortuna postal carrier Brad Renner makes his rounds Saturday.
Troy Nicolini, a meteorologist with the National Weather Service stationed at Woodley Island, said most areas of Humboldt saw 2 to 3 inches of rainfall Thursday and through Friday morning, with some areas, like Honeydew, seeing more than 7 inches. "Our rivers are responding accordingly," Nicolini said, adding that they're rising quickly from their relatively low pre-storm levels. The only river currently in danger of flooding is the Eel, which is expected to crest its banks tomorrow morning and flood some low-lying areas in the bottoms, Nicolini said.
The rain is expected to continue tapering off today, with light rain expected much of tomorrow before another round of heavy showers comes through the area Sunday. Nicolini said the brief break today and tomorrow will help rivers recover before Sunday, so additional flooding isn't expected.
But there have been widespread reports from the California Highway Patrol, Caltrans and Pacific Gas and Electric of power outages, debris in the roadways and localized flooding. Nicolini cautioned drivers to be careful out there and to look out for hazards.
Melissa Sanderson
The water rises around this Fortuna home.
Melissa Sanderson
Residents in low-lying areas use sandbags to keep localized flooding from seeping into their homes.
Melissa Sanderson
The National Weather Service is forecasting that rain will continue to slow today and tomorrow, allowing flooded areas to recover before more heavy rainfall is expected Sunday.