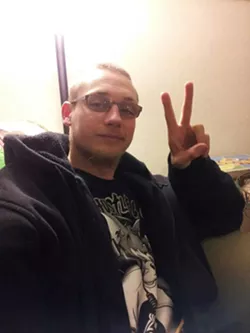 FROM THE 'JUSTICE FOR TOMMY MCCLAIN' FACEBOOK PAGE.
Thomas McClain
The family of Thomas McClain, who was shot to death by a Eureka police officer last year, announced it will file a $10 million wrongful death claim against the city and officers involved.
Southern California attorney Dale K. Galipo, who successfully sued the city and police officers for more than $4 million on behalf of the family of
Martin Cotton
in 2007 and will be representing McClain's family, called the McClain shooting unjustified in a press release.
McClain, 22, was shot by EPD officer Stephen Linfoot after being held at gunpoint by another officer in front of his home on Allard Avenue early on the morning of Sept. 17, according to police. A multi-agency review called the
shooting justified
, as officers reported that McClain was reaching for a realistic-looking BB gun in his waistband when Linfoot opened fire. No criminal charges were filed against the officer.
Read Galipo's press release:
Wrongful Death Claim Alleges City of Eureka Police Shooting Was Unjustified

On Monday, February 23, 2015, Jeanne Barragan and Lance McClain will be filing a claim for damages against the City of Eureka, City of Eureka Police Department Officers Stephen Linfoot and Brian Stephens, and other unnamed officers involved in the shooting of their son Thomas McClain. Approximately 45 days after filing the claim, a lawsuit will be filed in federal court alleging wrongful death and civil rights violations.

City of Eureka Police Department Officer Stephen Linfoot shot and killed 22-year-old Thomas McClain in his own front yard on September 17, 2014. Although witnesses claim that more than one officer may have fired during the incident, at this time this office can only confirm that Officer Linfoot discharged his weapon. At the time of the shooting,
Thomas McClain had his hands up and did not pose an immediate risk of death or serious bodily injury to any person. Jeanne Barragan and Lance McClain, Thomas' parents, are filing a claim seeking monetary damages of ten million dollars. Under California law, a claim for damages must be filed before bringing a lawsuit against a municipality for violations of state tort law.

The law does not permit police officers to use deadly force unless a reasonable officer would believe the person posed an immediate threat of death or serious bodily injury. In addition, if feasible, officers must give warnings before resorting to deadly force, and under a recent California Supreme Court decision, an officer's unreasonable tactics leading up to a shooting are relevant to whether the shooting was lawful.

Jeanne Barragan and Lance McClain are represented in their civil rights lawsuit by The Law Offices of Dale K. Galipo. Some of Mr. Galipo's recent civil rights verdicts include the following: a $4.6 million jury verdict in September 2011 for the family of Martin Cotton, who died in custody after being beaten by City of Eureka police officers; a $5.7 million jury verdict for Robert Contreras, who was left a near-quadriplegic after being shot by LAPD officers; a $6.5 million jury verdict in April 2013 for the family of Douglas Zerby, who was shot and killed by Long Beach police while holding a garden hose nozzle that police claimed to have mistaken for a gun; a $7.8 million verdict in June 2014 for William Howard, an unarmed man who suffered a severe brain injury and partial paralysis after being shot in the face by a County of Riverside sheriff's deputy; and an $8.8 million jury verdict in May 2013 for the family of LeJoy Grissom, who was killed in a parking lot by a Culver City police officer wielding an MP5 submachine gun.