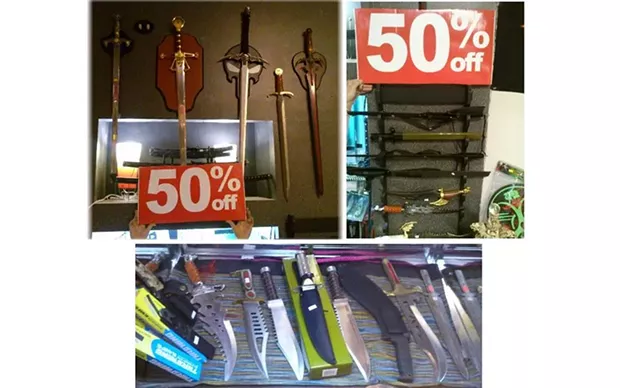 Ever want to flex like Conan and swing a 3-foot blade? Or maybe just Ninja around with a samurai sword of your own? Perhaps you're a hunter, who needs a good sheathable blade? If so, you're in luck.
Schatzi's Hidden Treasures — a locally owned shop in the Bayshore Mall that sells everything from Nag Champa and "functional glassware" to festival attire and crystals — has been asked by mall management to get rid of all its axes, swords and long blades and has consequently launched an everything-must-go, 50-percent-off sale. The request came on the heels of a pair of scary incidents at the mall in February.
Bayshore Mall General Manager Kirk White said that Schatzi's lease agreement with the mall doesn't allow the store to sell long blades. But Kirk conceded that mall management didn't take any action to prevent the store from doing so until after a female employee of a mall store was stabbed on Feb. 22 and then, three days later, a man brandished a handgun at mall security when asked to leave Walmart.
"Given the recent incidents, I had to remind them," White said. "But they've never been allowed to sell those knives."
Tony Raimondi, who works at Schatzi's and handles the store's social media accounts, said the current sale will last until April 1, when the store has to be rid of all long blades. But, Raimondi said, Schatzi's will continue to carry utility knives and other folding blades, which apparently aren't in violation of its lease agreement. Raimondi said the whole situation seems a bit crazy, as the smaller blades are actually more likely to be used for violent purposes.
In a Facebook post put up March 13 on the store's page, Raimondi poked a bit of fun at the situation.
"Everything must go, and although we don't think people run around attacking each other with swords, mall management requested that we rid ourselves of them due to the occurrences here lately," Raimondi wrote. "Fifty-percent off all sheathed blades, swords, axes, and katanas if you're looking to protect yourself against the loonies of Humboldt."
The post has gone Humboldt viral, with 233 likes, 52 comments and 60 shares.
The issue seems to be bubbling up at a time when public perception is that unsavory behavior at the mall is steadily increasing. White referred more general questions about the current mall climate to a spokesperson for General Growth Properties, which owns the Bayshore Mall, but he was unable to answer questions or provide a statement.
Eureka police Capt. Steve Watson said his department has been in close contact with mall security, which has reported a sense that there have been some "increased issues." Watson stressed that he doesn't think the mall is unsafe for patrons, but said mall staff and others have expressed concerns about the proliferation of shoplifting and some perceived safety issues.
"We're working on some strategies with the mall to help them address some of their concerns," he said. "There's been a proactive, two-way communication between the mall and EPD."
Watson declined to go into much detail about what those strategies entail, other than to say EPD has increased its presence at the mall with officers doing periodic walkthroughs and that the department has also launched investigations targeting some of the "more prolific criminals or criminal predators" known to frequent the areas around the mall.
As to the long blades at Schatzi's, Watson said he had no idea they even existed. And it looks like they won't for much longer.