Mark Larson
Vietnam veteran Darryl Whiteaker, of Willow Creek, paused to find names of comrades on the replica Wall on Friday. "I experienced two Tet offenses," he said. "One was enough." He served there in 1967 and 1968.
A half-scale replica of the Vietnam Veterans Memorial appeared on a hillside near Loleta's Tish Non Communication Center above the Eel River valley this week. The Bear River Band of the Rohnerville Rancheria and the AMVETS Post 96 in Eureka are sponsoring the wall's visit, which comes 30 years after its 1985 stop in Arcata, its last trip to Humboldt County.
Visiting "the Wall that heals," with its 58,272 names of American service members, including eight women, who died or went missing in action in the Vietnam War, brought back vivid memories from my heart and head. Fifty years ago this spring I graduated from high school, draft-deferment in hand for going to college for the next four years. I remember thinking at the time that surely this distant Asian war was going to be over by the time I graduated from college in 1969.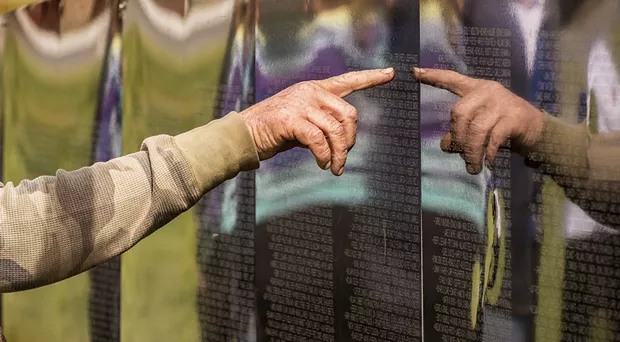 Mark Larson
Docents at the information tent used an alphetical roster to help visitors find the locations of the names of service members on the replica Wall's panels.
On hand with the replica Wall were docents, veterans and other volunteers with a traveling museum (showing letters and memorabilia left at the Wall in Washington, D.C.), an informational tent and veterans-support organizations. Mementos and memorabilia left at the replica Wall were to be collected by staff with identifying information for possible inclusion in a future local community exhibit, according to organizers.
Mark Larson
This photo of Tim Jacobsen, of Ferndale, who was killed in Vietnam at age 21, was placed on the replica memorial Wall.
"Military service is valued and honored and respected in the Bear River community," said Chairman William Sand of the Bear River Band of the Rohnerville Rancheria in a news release about the replica Wall display. "We are honored and humbled to be able to pay tribute to the men and women of the United States military by being part of the effort to bring the Wall back to Humboldt County and hosting the solemn Wall on Bear River Lands."
The Wall's opening ceremony was held on Thursday at 10 a.m. and it will remain open 24 hours a day until noon on Sunday.
Mark Larson
Visitors to the replica Wall left flowers, flags, mementos and memorabilia, including at least one bottle of beer.
Back in 1969, with draft notice and college degree in my hand — surprise, the war was not over — my path included volunteering for part-time active duty in the U.S. Army Reserves and officers' candidate school, along with attending graduate school. Many peers also facing the draft at the time either joined military service or left for Canada. Others starved themselves or sought other medical conditions to fail the draft physical. Some pursued conscientious objector status.
But the draft continued and the names of dead and wounded service members never seemed to stop. We thought the war would end in 1972 if McGovern got elected. And then we thought surely it was over on Aug.15, 1973 when the Case-Church Amendment passed Congress to end direct U.S. military involvement. And then finally, the fall of Saigon occurred on April 30, 1975.
The 58,272 names are listed in chronological order on the Vietnam Veterans Memorial, starting from 1959 and ending in 1975. Visiting the Wall is powerful, especially as you search for and find a familiar name.
Mark Larson
Danny Cox, of Carlotta, points to the name of Mark Bruner, from Stafford. Cox said Bruner was a friend of his family when Cox was young.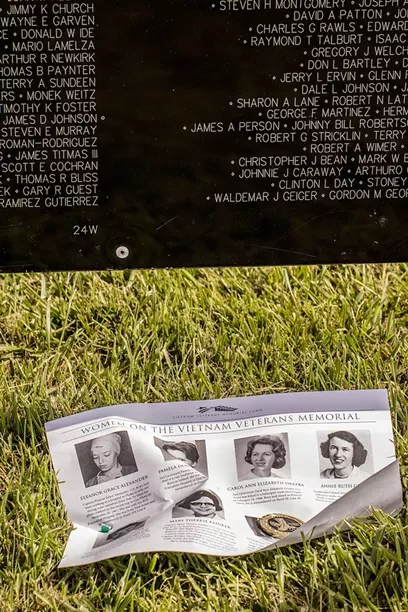 Mark Larson
Navy veteran Spencer T. "Ernie" Earnshaw, 71, of Loleta, said he found this token dedicated to the women who volunteered to go to Vietnam, and decided to place it at the Wall memorial with a handout with photos and descriptions of the eight women whose names are on the Wall. He placed both just under the name of Sharon Ann Lane who was killed in 1969. The token reads, "Tribute to women veterans," "She chose to serve"
Mark Larson
Mementos and memorabilia left at the replica Wall were to be collected by staff with identifying information for possible display in a future local community exhibit, according to organizers.