Grant Scott-Goforth
Not the hordes of yesteryear.
"This is lame," murmured one of Arcata's few hardcore stoners around 4:23 p.m. this afternoon. A couple of young men had stepped off the concrete slab at Redwood Park, the small piece of public property that the Humboldt Center for Constitutional Rights had
wrested from the control
of a zealous city staff over the course of the last few months.
Grant Scott-Goforth
Loco Coco came all the way from Los Angeles to celebrate. It was his second 4/20 in Arcata. He wasn't disappointed in the lack of a crowd.
Around a hundred people mingled at the park on the chilly, foggy afternoon. A disparate cross-section of Arcata: sporty young male stoners, restless and edgy traveler types, college professors, attorneys and media — lots of media. But student reporters weren't the only ones collecting images. Organizers reported that eager police officers — around 10 of them at one point — avidly recorded HumRights' gathering. By 4 o'clock, much of the weed-enthusiast crowd had dissipated into the Community Forest. Most of the cops disappeared too.
Grant Scott-Goforth
Jim Gray, of McKinleyville, promoted his homemade board game at the event. "Weed: The Game" is a lot like Monopoly. Grab resource cards, race to the finish line (dispensary), and "the winner has the most money."
When the minute struck, a couple of hoots and hollers emanated from corners of the park. Former Arcata city councilman and HumRights board member Dave Meserve took a moment to step away from the grill to announce to the small crowd, "It is 4:20, so if you're going to indulge, please step onto the grass." This, apparently, was to comply with HumRights' promise that no one would smoke at their event.
Grant Scott-Goforth
Just a handful of people made any attempt to honor the herby holiday.
A few people sparked up. But far more smoke emanated from the barbecue where HumRights volunteers turned hot dogs, feeding a small, consistent contingent of hungry 20-somethings.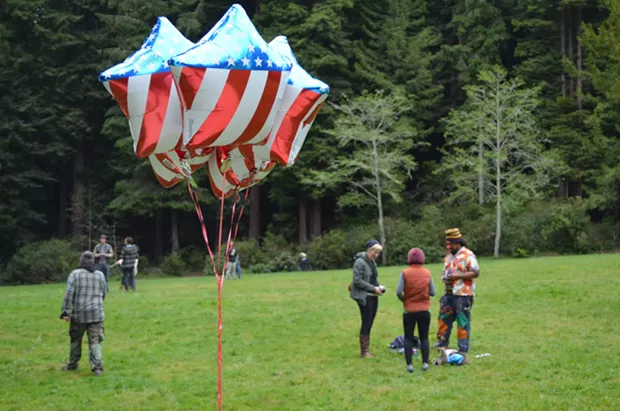 Grant Scott-Goforth
'Murica.