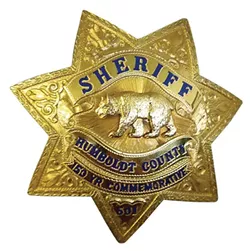 A woman died following a shooting in Phillipsville on Saturday. Sheriff's deputies responded to a report of the shooting on the 400 block of Phillipsville Road around 8:30 p.m. and found 47-year-old Jessica Jane Hare, who died on the scene.
Witnesses reported that another Phillipsville resident, 59-year-old Earl C. Orr, had a gun and had been at the house with Hare just before the shooting. "After the shooting, Orr abruptly left the scene," a sheriff's office press release said.
Orr was arrested on suspicion of homicide the next morning at his home, where several firearms were seized.
Sheriff's Lt. Wayne Hanson said the Hare and Orr knew each other, but that the incident did not appear to be a case of domestic violence.
From the sheriff's office:
Update:

The victim in the homicide has been identified as 47 year old, Jessica Jane Hare from Phillipsville. The victim and suspect knew each other prior to the shooting. An autopsy has been scheduled for Saturday, May 02, 2015.

Previously:

On 04-25-2015, at about 8:30 P.M., the Sheriff's Office received a call from a citizen reporting there was a gunshot victim at a residence on the 400 block of Phillipsville (Loop) Rd., in Phillipsville, Ca.

Deputies responded to the scene, along with Officers from the California Highway Patrol. Deputies located the Victim, who was pronounced deceased at the scene.

After speaking with witnesses, Deputies learned the suspect, Earl C. Orr, 59, of Phillipsville, Ca., had been in possession of a firearm , and was present with the Victim just prior to the shooting. After the shooting, Orr abruptly left the scene.

On 04-26-2015, at about 7:30 A.M., Deputies served a search warrant at Orr's residence in Phillipsville. Deputies located Orr at his residence and he was taken into custody. Deputies also seized several firearms from Orr's residence. Orr was later taken to the Humboldt County Correctional Facility and booked for the charge of Homicide. Orr's bail was set at $1,000,000.00.

The name of the Victim is not being released at this time.

Anyone with information for the Sheriff's Office regarding this case or related criminal activity is encouraged to call the Sheriff's Office at 707-445-7251 or the Sheriff's Office Crime Tip line at 707-268-2539.