Mark McKenna
Arcata Police Department responded to a reported shooting on the 2000 block of Eastern Avenue in Arcata Saturday night.
SECOND UPDATE:
Arcata Police Chief Tom Chapman confirmed this afternoon that the two remaining suspects in the Saturday night homicide of Trevor Mark Harrison were arrested recently.
Robert Louis Huntzinger, 34, was arrested last night around midnight in Blue Lake, Chapman said, and Billy Joe Giddings, 35, was arrested today around 3:45 p.m. in Loleta.
Both were arrested on suspicion of homicide and were taken into custody without incident. Chapman said there are no more outstanding suspects in the case.
UPDATE:
The Arcata Police Department has identified the victim of Saturday's homicide as Trevor Mark Harrison, 38, of Arcata.
While authorities initially described the shooting as having occurred during a home invasion robbery, Arcata Police Chief Tom Chapman told the
Journal
today that it appears to have been a drug deal gone wrong. Chapman said it looks like the parties involved had arranged some kind of marijuana transaction at a residence in the 2000 block of Eastern Avenue, though it remains unclear who was selling and who was buying.
Chapman said police believe three people arrived at the Eastern Avenue home — with one or two entering the residence and the other or others waiting outside. At some point around 11 p.m., Chapman said, the suspect or suspects outside barged into the residence, which lead to someone shooting Harrison in the shoulder. He was later pronounced dead at a local hospital.
The chief said that in addition to Harrison, two or three other robbery victims were at the residence at the time of the shooting but the scene remains murky. "We're getting varying levels of cooperation, so it's difficult for us to ascertain what exactly transpired inside the home," Chapman said, adding that one of the robbery victims fled the scene after the shooting, though it's unclear if he or she left in fear of the robbery suspects or because law enforcement was en route to the residence.
Chapman said there was no marijuana growing operation at the scene, and it's unknown at this point if cash, marijuana or anything else was stolen from the residence.
Sunday afternoon, police arrested Kimberly Lyn Steele, 28, of Samoa, in relation to the case, booking her into jail on suspicion of armed robbery and murder. Chapman said police are still trying to determine the extent of her involvement in the "homicide aspect" of the case. Detectives interviewed Steele, Chapman said, and are still trying to verify the information she provided and are actively pursuing a number of leads.
The Arcata Police Department asks that anyone with information about this case contact Sgt. Todd Dokweiler at 822-2428.
PREVIOUSLY:
Arcata Police are searching for a trio suspected of shooting a man to death while trying to rob marijuana from a house last night.
According to a press release, officers responded to a call shortly after 11 p.m. to find an unconscious man shot in the left shoulder. The victim, who hasn't yet been identified, was later pronounced dead at Mad River Hospital.
Police suspect the shooting occurred during a home invasion robbery and are searching for two men and a woman in association with the crime.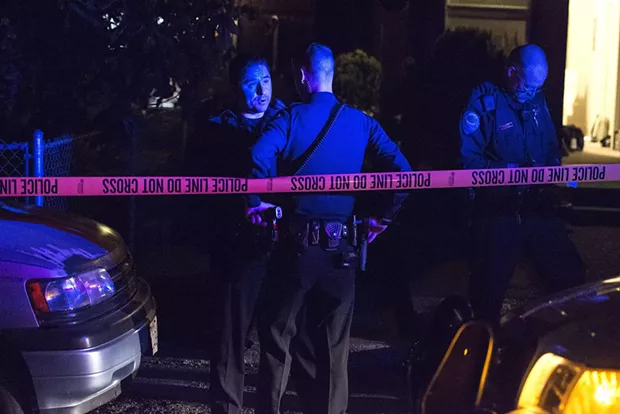 Read their descriptions in the APD press release below:
On May 9, 2015 at about 11:12 pm, the Arcata Police Department received a 911 call reporting that a shooting had just occurred in the 2000 block of Eastern Avenue. Arcata Police Department officers responded to the residence along with officers from the Humboldt State University Police Department. Upon the officers arrival they discovered a 38 year old victim suffering from what appeared to be a gunshot wound in the left shoulder. The victim was unconscious and life saving efforts were administered. The victim was transported to Mad River Community Hospital where he was pronounced deceased.

Further investigation revealed that a marijuana related home invasion robbery had occurred and the victim was shot during the commission of that robbery. The suspects are described as two white male adults, possibly in their 20's, wearing dark clothing and a white female adult described as being in her late 20's or early 30's with a possible first name of "Kim." The name of the victim is being withheld pending the notification of next of kin. The investigation is ongoing.

The Arcata Police Department asks anyone with information to contact Sergeant Todd Dokweiler at 822-2428.
Mark McKenna
APD speaks with someone following the shooting.