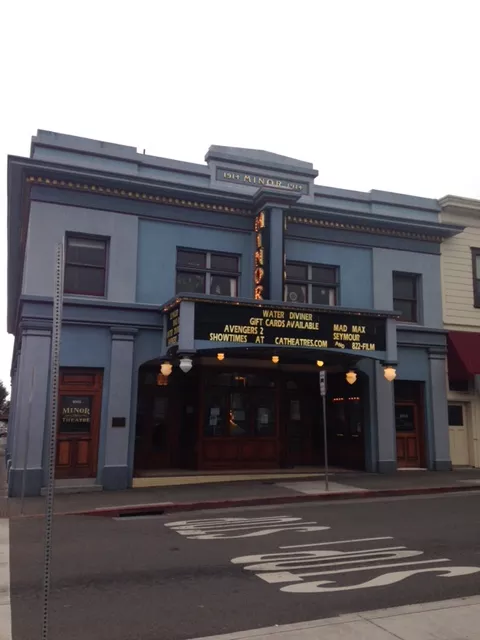 Sharon Ruchte
Sold!
The Minor Theater is in new and, it sounds like, good hands.
David Phillips and his wife LouAnna put the theater on the market several years ago, 40 years after purchasing the then-defunct building that was slated at one point to be leveled for downtown parking. The theater celebrated its
100th anniversary
in December of 2014 and, less than six months later, changed hands for the first time in more than four decades.
The new owner, Josh Neff, is a Humboldt County native — he was born in Eureka and attended Fortuna High. He went away for college for a couple years, he said, before coming back to start a general contractor business and VP a manufacturing company.
The 37-year-old said he will keep his current job in addition to managing the Minor Theatre building's rentals, which include apartments and two storefronts (Bubbles and Morning Star) in addition to the theater.
Phillips originally listed the block for $2.37 million, though both he and Neff declined to give out the final purchase price.
Neff says he loves historic buildings.
"The Minor building is a historic treasure for our state and our community," he wrote in an email. "It has served to enlighten and entertain our community through the Great Depression and six wars. It is a pillar of art and film in the community. I hope I can be half the steward of the building that David and his wife have been for over 40 years."
Phillips' Minor Theatre Corporation sold three out of four of its theaters nearly 10 years ago, keeping the Minor and leasing operation of the business to Coming Attractions Theatres based out of Oregon. Phillips was disappointed when the Humboldt International Film Festival, which he co-founded in the '70s, stopped running at the Minor. The student-run festival said renting the theater — which Phillips had previously provided for free — was too high.
But this year, the film festival was back in downtown Arcata after nearly a decade on campus, and both Phillips and Neff were excited.
"I was very happy to see the [film festival] return to its rightful spot at the Minor this year," Neff wrote. "If I had a say in it, I would have let them run the film festival for free. You don't always have to make money on everything."
Coming Attractions has the option to continue to lease the Minor — its contract will be up early next year and the company must give Neff notice by mid-December on what it plans to do.
Neff said he doesn't see Coming Attractions giving up the Minor lease, as they own and operate Mill Creek and Broadway theaters as well — a Fortuna-north monopoly on first run theaters. "I think that they hold their cards pretty close to their vest," he said. "If they did for some reason I'm prepared to continue operating the theater. That part is actually kind of exciting to think about."
Phillips is moved by Neff's energy.
"I think we lucked out and got a really exciting owner for the place. … It just reminded me a lot of the way we did it back in '71 and '72 — an almost blind enthusiasm."