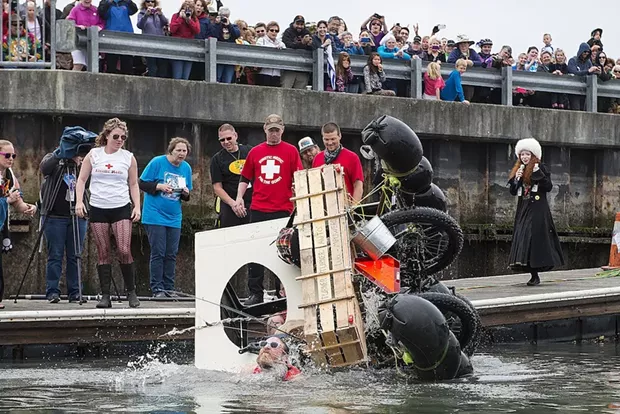 Mark McKenna
The Moonshine Banditos capsize shortly after entering Humboldt Bay during the second day of the 2015 Kinetic Grand Championship.
Things got downright damp Sunday, as the Kinetic Sculpture Race's second day began with the ever feared water entry. Some sculptures launched, where others merely wobbled and tipped, before a lively crowd near Eureka's Wharfinger Building. The first waves of racers are expected to approach the finish line on Ferndale's Main Street at about 1 p.m. today, so if you're still itching to catch a piece of the race up close and personal, it's not too late. Check out our Kinetic Primer
here
for tips on what today's final leg of the race will bring. In the meantime, here's a look back at Day Two's angst-inducing water entry, courtesy of
Journal
contributors Mark Larson and Mark McKenna.
Mark McKenna
Funguys Too.20 pass Whale of a Wedding on the way to line up for the water crossing of Humboldt Bay..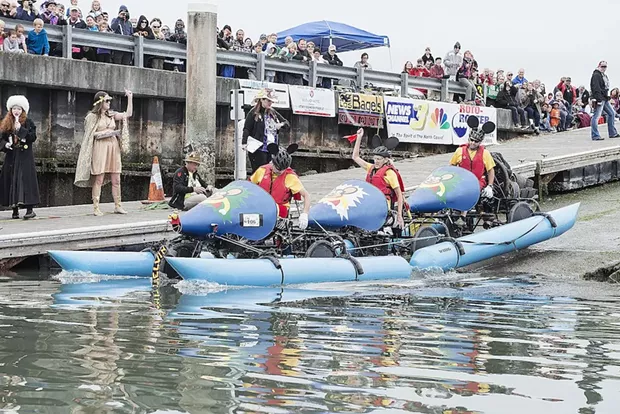 Mark McKenna
Melvin smoothly enters Humboldt Bay.
Mark McKenna
Tempest Fugitives - Drilling for Glory creates quite splash.
Mark McKenna
Buggy for Glory pilot Peter Wagner celebrates his successful bay entry...
Mark McKenna
... a bit too soon.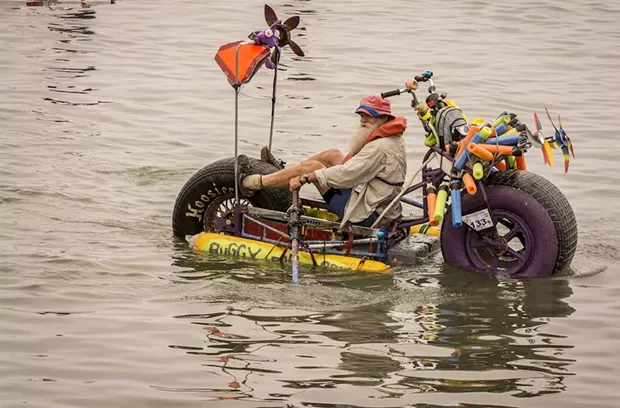 Mark Larson
It seems Wagner didn't injure much more than pride, as he was able to quickly right his sculpture and start rowing east to the take out at the Samoa Bridge.
Mark McKenna
Corpie Cruiser capsizes moments after entering Humboldt Bay.
Mark McKenna
Moonshine Banditos took a second stab at the water entry, without much success.
Mark McKenna
Top of the Mountain TO YOU! pilots celebrate a successful entry.
Mark Larson
A large crowd gathered on the Eureka waterfront to watch the human-powered sculptures float by.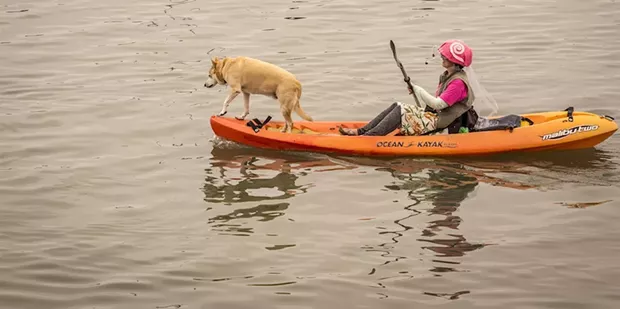 Mark Larson
Other spectators took to the water.
Mark Larson
Some got a clear view from the deck of the Madaket.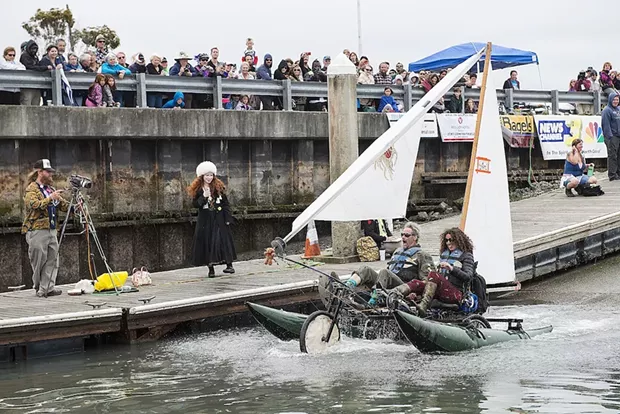 Mark McKenna
Meanwhile, the launches continued. Here, Flying Spaghetti Monster: Plan C, makes a smooth entry.
Mark McKenna
Flaming Farmers throw up a fireball in celebration.
Mark McKenna
Shells Angles enter with confidence.
Mark Larson
Meri the Monarch shed its wings for pontoons the water portion of the race.
Mark Larson
Maybe the fire balls are just a trick to keep warm.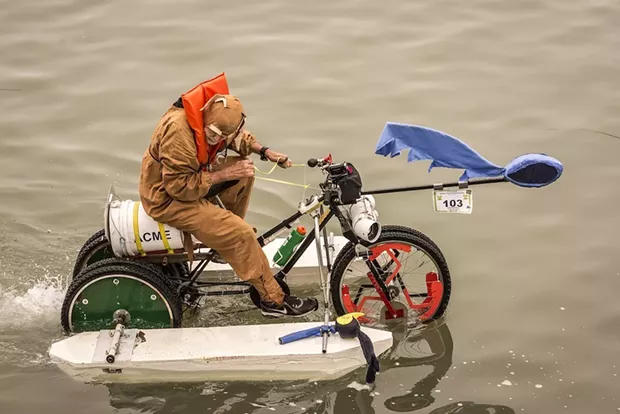 Mark Larson
Running Road Runner Down paddled past the Eureka waterfront on his way to the take out at the Samoa Bridge.
Mark Larson
The Mariners: Team Hoosier Daddy looks like it belongs on the bay as it paddles east past the Woodley Island Marina.
Mark Larson
It wouldn't be a Kinetic event without bubbles.
Mark McKenna
The Hot Roddenberrys head for the Samoa Bridge on Humboldt Bay during the second day of the 2015 Kinetic Grand Championship.