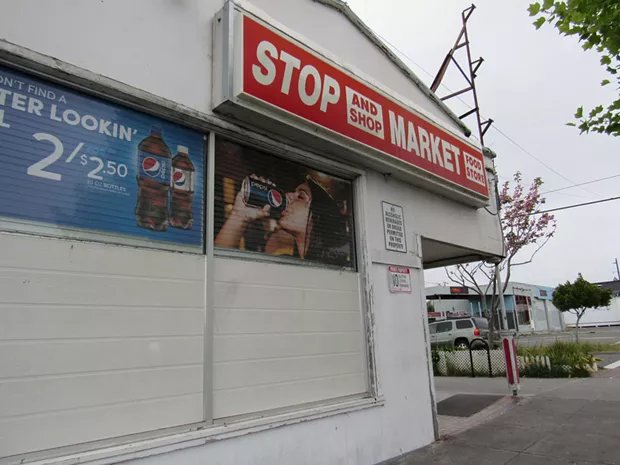 Linda Stansberry
The Stop and Shop: safer than ever.
Quirkily-captioned security cam stills of local ne'er-do-wells still flutter above the cold case, but the
notorious
Stop and Shop — aka the "Stop and Rob" — on Wabash and B streets hasn't called in an actual robbery for the last three years.
Owner Lee Ok Boon was vague about why the store hasn't lived up to its dubious reputation lately, saying only that there had been "no problems." Business was good on the morning we visited, with a steady stream of clients lining up for coffee and cigarettes. One woman waved away the assistance of the extra clerk, clutching a fistful of dollar bills as she waited for Boon to be free. Boon greeted her with a smile.
"Taaka?" Boon asked. The woman nodded, and Boon handed her a small plastic bottle of vodka.
Eureka Police Department spokesperson Brittany Powell said she was as curious as us as to the turnaround, but Senior Detective Ron Harpham offered a surprising explanation: Maybe the "Stop and Rob" nickname was never deserved in the first place.
"I've worked here 24 years and it's been robbed a couple of times, I suppose, but nothing that specifically warrants that reputation," Harpham said in a phone interview.
Harpham was the lead detective on the last reported robbery, in January 2012. The same armed suspect, captured by security cameras, is wanted for a 2011 robbery of the store. The case remains unsolved.
As to why the Stop and Shop gained its apocryphal moniker, Harpham blamed a combination of semantics and misinformation. Petty theft calls to the address, he said, have remained at a steady, but not extraordinary, rate. (The photos festooning store walls would seem to attest to this.) Actual robberies to convenience stores are rare, Harpham said, adding that many more people choose to rob grow houses or drug houses, because they have more money, less security and residents are less likely to report the crime.
Also, if you're listening to your scanner and hear a high volume of calls for the Stop and Shop, Harpham said they may very well be for other crimes in the vicinity.
"It's very common for an officer to call in and instead of using the address—say Wabash and B—to say I'll be out by Stop and Shop," said Harpham, "Probably the minimarts down along Broadway have had a far greater run than the Stop and Shop."
(A quick scan of Eureka robbery reports for the last four months reveals that the majority are, in fact, clustered around Broadway and Old Town.)
Occasionally businesses will have their alcohol and beverage licenses pulled if they make too many calls to law enforcement, removing their motivation to report crime. Harpham said that's unlikely in this case.
"My experience with owners of Stop and Shop is that they're very cooperative and very helpful. They also have a good security system."
A quick Internet search reveals that "Stop and Rob" as a nickname for convenience stores is neither clever nor unique, having made its way into both Urban Dictionary and
Police
magazine. The Eureka Stop and Rob, however, does have its own
active Facebook page
, where our wittier locals check in to say they are "feeling lost" at the Stop and Rob, need help "killing a keg," at the Stop and Rob, and "smell trouble" at the Stop and Rob. If the page is any indication, this Wabash Street store generates a lot of passion in both directions: There are equal amounts of one and five star reviews, with nothing in between. No one on the page mentions a robbery.
Linda Stansberry
Petty theft public shaming on display.
LINDA STANSBERRY
Steal candy, get a free poem.