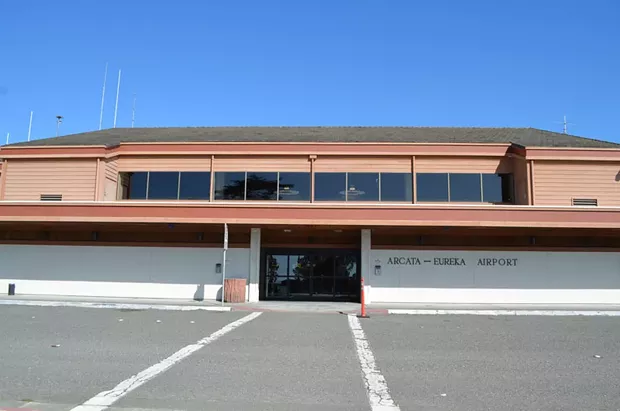 Grant Scott-Goforth
Ignore that sign - this is the California Redwood Coast Humboldt County Airport.
The Humboldt County grand jury just released the results of an investigation into the county's beleaguered Aviation Division and the six airports it manages.
As you may
recall
, the Aviation Division is in dire financial straits, expected to end this fiscal year nearly $1 million in the hole and with an ongoing structural deficit in the hundreds of thousands.
Most noteworthy of the grand jury's recommendations: That the Aviation Division be taken out from the purview of the Public Works department. The jury makes no specific recommendations, simply suggesting the board of supervisors look into "realignment of the Aviation Division outside of the Humboldt County Department of Public Works."
It's an idea that Fourth District Supervisor Virginia Bass all but suggested earlier
this year
, but she also was light on details as to how it would actually pan out.
The grand jury's recommendations also include designating a negotiator to seek second airlines, a role that, it had seemed, had gone to Program Manager Emily Jacobs in recent years.
Referring to the loss of airline service prior to former Aviation Division director Jacquelyn Hulsey's departure, the grand jury wrote, "
Through its investigation the Humboldt County Grand Jury found conflicting information as to how the county let this opportunity for a second airline service slip away. This includes what person was the lead negotiator with the authority to make a deal with an airline for Board of Supervisors (BOS) approval. When negotiating with a competitive private sector business like an airline, rapid response time is imperative. A process with the least bureaucracy possible is needed. To date, no new offers have been presented to the county even though various county officials routinely attend nationwide airline recruitment meetings and Fly Humboldt, the local organization interested in broadening local air travel options, has now raised over a million dollars.
…"
The grand jury also found that the county's Dinsmore Airport is in jeopardy of losing its state license this summer unless an application is corrected, and recommends that maintenance, including tree cutting, be done at each of the county's airport, among other items. Read the full report
here
.