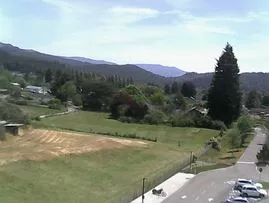 Sure, it's not technically summer yet, but this year's overcast skies remind us of the Humboldt coastal summers of our youth.
If you're like us, the permafog has you longing for the sunny embrace of Blue Lake. But you've been burned before: throw on your trunks, hop on the bike, the promise of cold beer on your tongue and — damn, it's cold and cloudy in Blue Lake,
too
. For years the solution was to call Stardough's (guilty) or another Blue Lake business for a quick weather assessment.
Now there's an even easier (and less disruptive) solution: The Blue Lake Sun Cam.
Perched atop the Blue Lake Casino, an east-facing camera snaps a shot every few minutes of the Mad River valley, allowing you to see if you can escape to Blue Lake or have to press farther east for sun.
Log on to www.sunnybluelake.com — the city's chamber of commerce site — to check out the camera. It looks gorgeous right now. Best journalistic practice would be to drive out there and confirm that it's accurate, right? Better grab our swimsuits on the way.
From the chamber:
Can't find your shadow? It's probably in Blue Lake.

Blue Lake's only a nine-minute drive inland from Arcata, and on most days that's all it takes to get out of the fog. Every summer, coast dwellers call Blue Lake's City Hall, the Logger, Mad River Brewery and Stardough's, asking the same question: "Is the sun out?" Well, no more, because now sun-seekers can go to www.sunnybluelake.com and see the sky over Blue Lake for themselves.

The new Blue Lake Sun Cam is pointed 24/7 up the Mad River past all the great swimming holes. Check it out when searching for those precious rays. You'll also find Blue Lake news and classifieds, links to places like Dell'Arte and local bistros, an event calendar plus more, courtesy of the Blue Lake Chamber of Commerce.