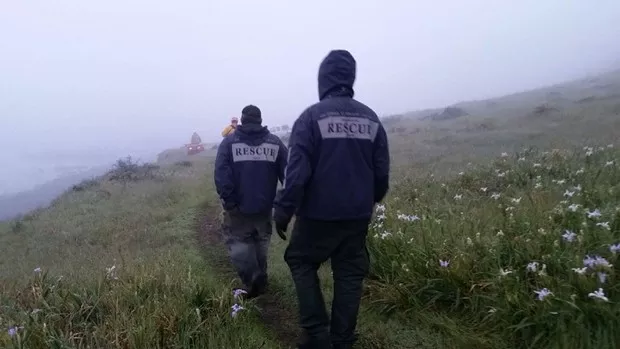 SUBMITTED
From an April rescue on the Lost Coast. Shelter Cove VFD was one of several rural departments called in to help.
The ranks of volunteer fire departments are dwindling for lack of fresh faces. The New York Times
reported
on this trend last year, citing several factors including a shift from volunteer to career firefighting, lack of time for volunteering and the aging of rural populations. This last factor has had a decided impact on departments in rural Humboldt County, exactly where their services are most crucial.
"For a little while we were really a geriatrics department," said Todd Salberg of the Orleans Volunteer Fire Department, "It's gotten better over the last couple of years. We have a couple more young people involved but, since the close of the woods, it's been harder to find qualified drivers for our equipment."
Salberg, who suffered a stroke three years ago, has been re-elected chief five times. With the help of his assistant chief, 80-year old Tom Bouse, he runs the department's summer hamburger stand next to the gas station. Besides the occasional income from sending an engine to support CALFIRE during wildland fire season, the hamburger stand, open every Wednesday, May through September, is the department's sole source of income. On the day we spoke they had just raised $900.
"It's a lot of money for one day, but then again, we're the only game in town," said Salberg, "Since they closed the mill down and there isn't the logging, we only have one store and a gas station. It was happening place when I moved here. Now, we have nothing. There's nothing up here but pot growers anymore and they're not interested in being in the fire department."
Salberg added that the majority of calls the department receives are medical, but it will also get called out to more traditional emergencies. The remoteness of many residences makes fighting fires a challenge.
"Generally we have about one good structure fire a year…usually the house will burn down by the time we get there," said Salberg.
Tom Marquette, chief of the Trinidad Volunteer Fire Department, cites the shift in responsibilities as a major cause of the decline in volunteerism. Not only are medical calls less glamorous than fighting fire, they require more training.
"It takes up a lot of time. People's interests are different. With the 911 system anytime someone has any kind of medical issue the sheriff's dispatch has to decide what's needed. If it's an ambulance, first response is the volunteer fire department. I think it has to do with the 911 service…probably in the old days they'd call the fire department directly if there was a fire."
Though it's closer to urban centers than Orleans, Trinidad suffers a uniquely lopsided demographic due to the amount of
vacation rental homes
. Marquette said that ideal volunteers — local, young, able-bodied — have been priced out of the housing market.
"Where are you going to get your volunteers if all your folks are retirees? I mean, two of my best people are in their 70s, but it's hard to find new people sometimes. It's hard to be picky but you have to be able to climb a ladder."
With the recent passing of the Trinidad
vacation rental ordinance
, the demand for service to the tiny burg may continue to outweigh those able to respond.
Farther down the coast, another small town with more tourists than residents has rebounded from a brief shortage in volunteers and is even branching out to help train neighboring departments.
Like most volunteers, Cheryl Antony of Shelter Cove wears a lot of hats. Firefighter, EMT, registered nurse, and the department's public information officer, she said support for the department has remained robust despite the demands of the job.
"We have more drills than any station in SoHum. We do medical drills every single Wednesday night. We have to. We're at the end of the line, let's face it. We're as far from help as we possibly could be."
Antony said that her department is financially supported both by a modest parcel tax and by community fundraisers, which have helped the department buy chair lifts and other medical rescue gear. Shelter Cove is only accessible by a narrow mountain road or by air, and the Volunteer Fire Department responds to many rescues on the Lost Coast Trail. The department is now gearing up for the annual Redwood Run, when many motorcyclists make the trip from Piercy to experience Shelter Cove's magnificent views.
"The Wednesday prior to the run we have our medical drill, which is 'motorcycle down," Antony said. "We usually get people from other departments who want to train."
Antony said that, at one time, there was a dip in volunteers but the force has since stabilized thanks to new recruits.
"Thankfully we have some young guys that are really giving people," she said.