An apparently defiant and unrepentant Mikal Xylon Wilde will spend the rest of his life in federal prison for the 2010 murder of one of his workers at a Kneeland marijuana farm.
Wilde, 33, was sentenced by a federal judge to serve life plus 35 years in prison after a jury convicted him on March 2 of a total of six charges, including murder in the commission of a narcotics offense and conspiracy. After the month-long trial, the jury deliberated for less than five hours before returning guilty verdicts on all counts.
Wilde was the principal owner of Ashfield Ranch LLC, which purchased a sprawling 660-acre property in Kneeland — about 11 miles from Wilde's home — in 2009. To help tend the more than 1,500 marijuana plants spread over four garden sites on the property, Wilde hired three men: Christopher Bigelo and two Guatemalans in the country illegally, Fernando Lopez and Mario Roberto Juarez-Madrid. Wilde was essentially broke at the time and, under increasing financial pressure, told the employees a couple of months after their arrival that he couldn't afford gas for the water truck they'd been using to irrigate the garden sites. They'd have to start watering by hand. The employees balked at this, and on Aug. 25, 2010 asked to be paid for the work they'd done and taken home. But Wilde couldn't pay them. He was $33,000 behind on mortgage payments on his house, which already has a $16,000 lien on it from the IRS. Sending them away without paying them ran the risk of angering them and jeopardizing his grow operation, which he needed to bring to harvest to pay off his debts, including the $200,000 he owed each of his business partners.
So Wilde told the men he'd pay them and take them home, but when he returned to the property later that day he opened fire, wounding Lopez and killing Juarez-Madrid.
"The defendant hired illegal immigrants to work on his grow in the belief that they were expendable, not in a position to complain and that they might not be missed if they disappeared forever into the woods of Humboldt County," the U.S. Attorney's Office wrote in a pre-sentencing memorandum in the case. "When he could not pay them, he murdered one and tried to murder the other. The defendant preyed on their status and viewed them as free labor that could not stand up to him."
Juarez-Madrid, of Santa Rosa, Guatemala, had been living in the United States illegally for less than a year at the time of the shooting, according to Humboldt County Deputy Coroner Charles Van Buskirk. His remains were ultimately returned for burial to his home country, where he left behind a wife and two children.
At trial, Wilde testified that the shootings were an act of self-defense, and that he only opened fire after Lopez approached him brandishing a pistol. After firing his initial shots, Wilde testified that he mentally went into a "dark cave," and couldn't remember anything after. This was contradicted by the testimony of both Lopez and Bigelow, who said the workers were unarmed and happy to be going home when Wilde ambushed them and spent hours searching for them in the woods. The U.S. Attorney's Office argued in its memorandum that Wilde's testimony "was belied by every piece of credible evidence in the case," and that Wilde's testimony constituted obstruction of justice and he should be given an even stiffer sentence as a result. "All of the forensic evidence in the case demonstrated a cold, calculated, premeditated murder," the memorandum states.
Further, the U.S. Attorney's office pointed to a letter — intercepted by U.S. Marshals — Wilde attempted to send his sister after his conviction as further proof that Wilde both acted consciously and is without remorse. The memorandum quotes Wilde's letter as saying he was seeing visions of tying his two shooting victims up in an act of revenge, "and torturing those two dudes with sodomy." According to the memorandum, Wilde's letter also states that he "blew Juarez's brains out for a reason" and that he "recalls crystal clear."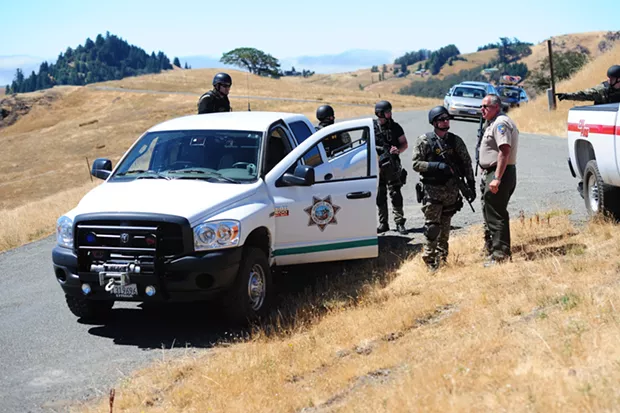 File
Humboldt County Sheriff's Office personnel stage about a mile away from Wilde's Ashfield Ranch property on Aug. 26, 2010.
In his memorandum to the court, Wilde's attorney, J. Tony Serra, argues the letter was intercepted illegally and should not be considered by the court. Serra's filing is also accompanied by seven letters from community members urging leniency on Wilde's behalf. The letters generally describe Wilde as a kind and gentle man for whom violence is totally out of character, but they also note he had a troubled childhood and went through a period of steroid use. One woman describes how Wilde introduced her to a healthier lifestyle and physical fitness, crediting him with her ultimately going on to become a registered nurse. "This goes against everything I've ever known of him," she wrote of his crimes.
Other letter writers describe how Wilde's mother had a drug addiction and left the family when he was a baby, leaving his father to raise him on his own. The two had a rocky relationship, according to one letter, and Wilde always seemed to crave a motherly presence in his life. Another letter notes that Wilde's father suffered some depression issues and was "prone to not communicating for long periods of time," going on to say "Mikal seemed rather feral."
Perhaps the most haunting letter comes from a friend and former girlfriend of Wilde's, who describes how Wilde made her feel like a princess and how the two would spend hours on end talking about their futures together. He could light up a room with his sense of humor, she writes, and felt safe, "like a big teddy bear." She writes that she and Wilde lost contact but, when she heard of the shootings, she couldn't believe it. "Even when he was on steroids he never once caused me to be fearful of him," she wrote. "He has one of the most genuinely caring hearts I have ever encountered and I know without a doubt that Mikal, in a sober and sane state, would never cause harm to another being. … The Mikal that I knew and believe I still know is gentle and loyal and, had he not made the life choices that he did, I would've trusted him with my heart and soul and would be with him still to this day."
It's hard to square the images of Wilde painted in these letters to those that seep through the pages of a transcript of closing arguments in the case, which offer chilling and grisly details of the shootings. The arguments offer new layers of context in the case and, for legal junkies, they also give a glimpse into the way the famed and eccentric Sera works a jury.
A
transcript
of closing arguments in the case is worth a read for those looking for more information on what happened on that hill in Kneeland back in 2010, or who want to glimpse the underbelly of Humboldt's illicit industry. But the arguments surrounding the charge at the heart of the case — that Wilde gunned down Juarez-Madrid in cold blood — can be summed up in two passages.
From Assistant United States Attorney Kimberly Hopkins:
"And on the evening of Aug. 25, 2010, the defendant drove his green Ford truck to the site. He pulled out the .357 revolver, and he shot Fernando Lopez-Paz in the face. He then shot Roberto Juarez-Madrid in the back. Roberto fell to the ground, but he was not immobilized, and he was able to get back up and keep running.

Both Fernando and Roberto ran in different directions to get away from the defendant. So the defendant shoots Roberto again in the back, and it was another non-fatal shot. And Roberto runs through the marijuana grow and down a steep slope to escape.

Now, the defendant chose to go after Roberto, and he followed him, and he pursued him, and he hunted him. And Roberto gets about 300 yards out, and he could no longer run anymore, and he sits down. And he has blood dripping down onto the front area of his pants. And the defendant comes up behind him and presses the gun to the back of his head and shoots him. That final shot, that close-range, execution-style shot to the back of Mr. Juarez-Madrid's head is the shot that killed him instantly."
From Serra:
"What is the most poignant, most impactful, most insightful, most penetrating image of the entire trial? What will all of us carry away ultimately as the resonating metaphor of this litigation, all of us? It is Mikal Wilde, a youngish, big, strong man crying as he tried to recall what had occurred after he saw Fernando with a gun approaching him, and he fired blindly.

Does anyone dare infer that he was perjuring himself? My God. That is the symbolic episode of this entire trial. No one could feign the emotion that he, in his testimony at that moment, manifested: I swear to God I saw a gun. And he cried. Do you think he was lying? Do you think he was faking? He has no guile. I do not represent some kind of an ogre, some kind of, I don't know, a rageful, you know, mindless human being. I represent a good person, a hard working person, a thoughtful person, a person where in this trial there has been testimony from all perspectives: He's not aggressive; he's non-violent; he's non-threatening; he's non-assaultive; he's non-, you know, physically aggressive.

You can't — You can't just discard his testimony at that vital moment. You cannot."