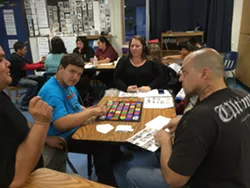 Linda Stansberry
Robert Wilkins (in blue) leads a community class in Wailaki with fellow student Blaze Burrows (wearing black, at rear.)
There is no hello in Wailaki. The traditional greeting, "en tchong, en tchong shun da" translates to "Good, good my friend." The language, part of the Athabascan linguistic family and spoken originally by Native Americans in the Eel River Valley, has been considered extinct for close to 50 years. Now, thanks to the efforts of a group of teenagers, their dedicated teacher and the painstaking work of several linguists, it may be time to say
en tchong
to Wailaki once more.
Garberville resident Ben Schill is one of a team of linguists who has spent the last decade transcribing written descriptions of the Wailaki language from primary sources and attempting to determine their pronunciation. Much of this is guesswork, as the language was poorly recorded and not widely studied before its last native speakers died in the 1960s. Members of the Wailaki tribe were among many removed from their tribal lands and then forced to speak English. The majority of Wailaki descendants currently live on the Round Valley Reservation in Covelo, which is where the language's unlikely renaissance truly took root.
"I wanted to speak my own language," says Darin Merrifield, freshman at Round Valley Highschool, "No one in my family spoke it. It feels pretty awesome. You just got to get used to the sounds."
Merrifield is one of 14 students enrolled in the
Round Valley Language Project
, where students can opt to study Wailaki for their core curriculum language requirements.
"I tell the students that it wasn't really by choice that the language was not spoken," says teacher Cheryl Tuttle, who started the project in collaboration with the University of California Berkeley Linguistics Program and the Advocates for Indigenous California Language Survival. "If something was stolen from you, you have the right to have it back."
Tuttle's students have spent the year studying basic nouns and verb tenses as well as helping teach classes for community members who want to learn the language. She says the class has "become kind of a family" and generated a huge emotional response.
Robert Wilkins,15, says that the language "just makes sense" to him.
"I am Wailaki myself. I love it. It's part of me. I feel at home when I speak it. It makes a lot of sense when I'm talking about a mountain lion, for example. The Wailaki word Bin-da-choh ("Its Mouth Big") describes it better," he says.
The class marked a milestone recently by speaking in Wailaki at the Round Valley school system's Head Start graduation. Next year, the students will begin developing curriculum for young speakers in the Head Start Program.
Lorenzo Lambertino, now a lecturer at San Jose State University, worked on restoring the Wailaki language as a graduate student. He says he "almost cried" when he saw the video of the graduation ceremony.
"I'm so proud of these kids," he says. "It's a Herculean task but little by little the language is coming back."
Editor's Note: This story was updated from a previous version to correct an error in the description of Lorenzo Lambertino's work restoring the Wailaki language.