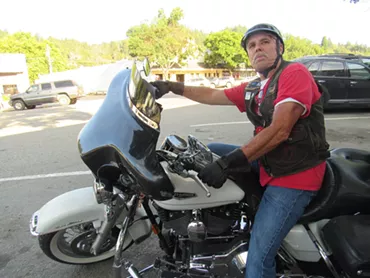 Linda Stansberry
Sundog on his hog.
1. It's not what it used to be.
This according to veteran biker Craig "Sundog" Barnette, who pulled a sour face at the paltry array of bikes in front of the bars in Garberville. "There used to be hogs up and down this street. Now it's a ghost town." Nonetheless, local bartenders said they made a fair amount in tips. Last year, the Run coincided with the Garberville Rodeo Parade, resulting in some panicky horses. This year, the leather chaps crowd will be coming into town as the leather jacket sets leaves.
2. Bikers are a friendly bunch.
If you're looking for brawls, you're better off at home watching Sons of Anarchy. It was a sunshiny Southern Humboldt Day in Piercy, and the majority of the black-clad revelers were talking gear, slapping backs and catching up. Cries of "Hey man, how have you been!" were common. In one overheard exchange, two friends realized they had gotten drunken tattoos together four Runs past. ("I woke up with a tattoo on my ass and I couldn't remember who had been with me. It was you!") Down on the river bar, one man helped another out of a wheelchair and onto the back of an idling hog. The bluffs across the water amplified the noise of gunning engines, making a sound like a thunderclap.
Linda Stansberry
Were you looking for the Mestizos Califas? Because they're right here.
3. Weed use is much more blatant now.
This according to a hospitality volunteer backstage, who said when he worked the event 15 years ago, people were "sneakier" about toking up. "Harley riders, you know, they're doctors and lawyers. They used to be more concerned about how they'd be perceived. But weed's going to be legal soon. It's way different." The volunteer then knocked his $400 bong off the table, breaking its stem.
LINDA STANSBERRY
Backstage hospitality. Butts on the left, roaches to the right.
4. Some things you can merch ...
like Hells Angels brand gear, Crazy Bitch brand T-shirts, even cheap highs in the infamous "nitrous alley," where tattooed men filled yellow and red balloons for wobbly party folk. Counterculture evidently equals plenty of cash. The wet T-shirt contest was rumored to have brought in $4,000.
Linda Stansberry
Warrant prepares to rock.
5.
... and some things you can't.
As darkness fell over the Eel, '80s superstar glam-metal band Warrant took the stage. A brief spatter of mic checks preceded an epic bout of mic-twirls as lead singer Robert Mason strutted his way through "Dirty Rotten Filthy Stinking Rich," his feathery coif of long blond hair following him like a flag in full wind. The crowd went crazy, screaming along to the band's most recognizable hit, "Cherry Pie." A trim, tan older woman wearing nothing but a pair of leather shorts shook her teacup-sized breasts in time. Most of the crowd was overcome with rock n' roll frenzy, but two dour young men watched the show unimpressed. One shouted something to the other that got lost in the sound of the wailing guitar. "WHAT?" asked his friend. The shouted reply came, "I SAID, NOT ENOUGH TITS THIS YEAR!"
Linda Stansberry
Cover band Rad Company rocking out.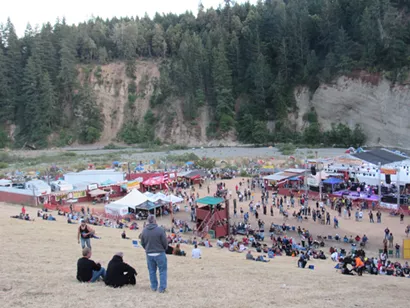 Linda Stansberry
Looking down on "the pit."