Number of miles ridden: 5.6 miles
Time traveled: 25:27 minutes
Number of roadkill passed: 2
Number of times actively feared for life: 0
(Note: Before we journey down this path together, please note: If you seek useful, straightforward advice on commuting via bicycle, refer to the
Humboldt Bay Bicycle Commuters Association
. Also, if you would like some background regarding this adventure – or just to chuckle at my bicycle ineptitude – please see
the kickoff column
on my personal blog. If you're looking for entertainment or encouragement or a chance to gloat over your superior bicycling skills, read on!)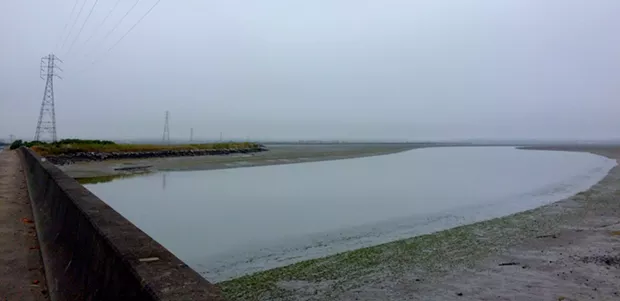 Mad River Slough. Gray can be beautiful, too. Especially after a triple-digit inland trip.
Let's face it. As bike commutes go, five to six miles of flat terrain is about as good as it gets. Enough distance to count as exercise, no challenging hills, not so far as to add an undue amount of time to the work day. Plus I get to bike over Mad River Slough and through the Arcata Bottom, so plenty of flora and fauna to enjoy along the way. The only drawback to riding my bike from my house in Manila to my office in Arcata is the lack of a safe, well-maintained way to get there.
Option 1
: Ride along 255 the entire way. Pros: Most direct, smoothest road. Cons: Between Jackson Ranch Road and V Street, a cyclist has maybe 18 inches of shoulder to pedal in as cars and trucks roar by at 55mph-plus.
Option 2
: Take 255 to Old Samoa Road, then turn right and ride through the farmlands to V Street. Pros: Less chance of death, bucolic, only adds half a mile to the commute. Cons: Road is in terrible shape, gravel in some stretches.
Option 3
: Take 255 to Jackson Ranch Road, turn left and ride through the Bottoms to Foster, etc. Pros: Less chance of death, bucolic, road isn't as torn up as Old Samoa. Cons: Adds over a mile to the commute, can be stinky, rough roads, potholes.
Today I rode the whole way on the highway, which turned out to be surprisingly less traffic-y than usual – not one single car or truck came close to hitting me! Yes, it's sad that the state of bicycle commuting in Humboldt is such that simply not being hit by an errant driver feels miraculous, but even more sad is the number of deaths and injuries that make such concern well warranted.
The reason I chose that route was because I was running late. Packing for the day is more challenging when I have to transfer everything to panniers instead of simply hucking my various sundries into the backseat. Especially when I'm trying to be good about bringing lunch and because I get all sweaty riding, so I shower at my office building (yay for showers at the office building!).
I slept in a bit, which meant by the time I rolled out of bed, the day had already progressed to 7 a.m. Before leaving, I had to make tea, make breakfast, make lunch and remember to pack the following: towel, dress, bra, underwear, sandals, earrings, mascara, moisturizer, laptop, power cord, notebook, purse, phone charger, phone, sunglasses, jar with the beet salad I'd made, container full of strawberries and peas for a snack – it feels ridiculous, like I'm doing something wrong. There's got to be a way to travel lighter, I think.
It didn't help that I stopped to not only compulsively organize this week's farm share produce into a separate veggie drawer from last week's produce, but also was compelled to leave my husband an illustration about what to eat first – look, I just got back into town and these things are important! We can't let the vegetables go bad!
By 8:12 a.m., I was ready to roll.
Because when you're running late is the ideal time to creatively illustrate the vegetable system you've spent the morning implementing.
The ride itself was uneventful. Besides the mild traffic, the gray morning and low tide muted what is sometimes a brilliant scene of blue and green. Not that I minded – the lack of glare and cool weather were a welcome antidote to the 109 degree heat I'd experienced in Sacramento the day before. The most notable moment was when I turned from 10th Street onto N and immediately started weaving like a maniac to avoid the potholes and worst parts of the road... before I noticed the cop car waiting at the stop sign on Ninth. I suppose I didn't look too sketchy, however, in my fancy bike pants and snazzy helmet, so my potential brush with the law was averted due to normalcy.
And the only thing I forgot, since I didn't drive, was my office keys.
As Coastal Programs Director for the Northcoast Environmental Center, reluctant cyclist Jennifer Savage wants to be a better environmentalist, hence the bike commuting commitment. Follow along via the
Journal'
s Blogthing – and email her your suggestions at
jenniferelizabethsavage@gmail.com. .