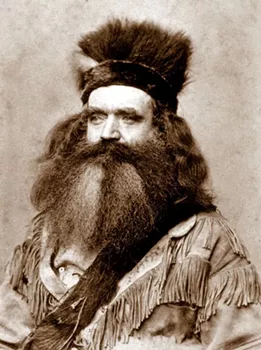 ONLINE ARCHIVE OF CALIFORNIA
Seth Kinman, mountain man, furniture builder, killer of Native Americans, has a pond named after him.
Last week we
ran a story
which dipped briefly into the history of Larabee Creek — named for a participant in the Indian Island massacre.
Local historian
,
author
and
Journal
contributor Jerry Rohde was inspired to send us a list of other places in Humboldt County with ignominious eponymy. Below are the results of his search.
(This list contains only names currently recognized by U. S. Geographical Survey. Several other offensive names that were in earlier use have been omitted.)
Larabee, Larabee Creek, Larabee Valley:
All named for Henry Larabee, a rancher who lived in Larabee Valley. He participated in the Indian Island Massacre, boasted of having murdered 60 infants at various killing grounds, and shot and killed an elderly Indian who did nothing more than pay Larabee a visit.
Brown's Gulch:
This tributary to Elk River, located near the Boy Scout Camp, was named for James D. Henry Brown, who local historian Martha Roscoe determined was a leader of the massacre party at Indian Island.
Digger Creek:
This tributary to Yager Creek is south of the Iaqua Buttes. The term "digger" was frequently applied to local Indians and should be considered as offensive as the term "n—" as used in reference to blacks.
Squaw Creek:
Squaw Creek #1 is a tributary to Bull Creek, in the heart of the Rockefeller Forest. A group of white vigilantes massacred local Indians there in the 1850s. Squaw Creek #2 is a tributary of the Mattole River and was the site, in 1863, of another Indian massacre. Squaw Creek #3 is a tributary of the East Branch South Fork River. The term squaw has long been held to be offensive by numerous Indian tribes.
Negro Joe Ridge:
This location lies just below the scenic overlook on Highway 299 west of Berry Summit. It was earlier called N— Joe Ridge. Even if it became "African-American Joe Ridge" it would still be insulting because it perpetuates the use of the name "Joe" as a catchall for male blacks regardless of their true name. In this case, the ridge was named for Leroy Watkins, who was probably the first black in Humboldt County. He was ambushed by two Whilkut Indians in the vicinity and killed both of them.
Kinman Pond:
This body of water is located on Bear River Ridge, southwest of Rio Dell. Seth Kinman had a ranch here in the 1850s. Kinman reportedly would kill Indians on sight.
Felt Springs:
This former hot springs is northeast of Fortuna near the southern edge of Headwaters Forest. It was owned by Dr. Theodore Dwight Felt, who, in 1852, cosigned a letter asking residents from Humboldt Bay to help Eel River area residents massacre Indians. Several Wiyot villages were attacked as a result.
Patrick's Point:
Named for "Old Patrick" Reagan (or Beegan), who live in the area in the 1850s. In July 1854 he shot and killed an Indian boy near Trinidad. He was arrested but escaped while witnesses were being examined. Patrick later lived above Redwood Creek. He discovered an Indian camp nearby and led soldiers to it; he was subsequently killed by the Indians.