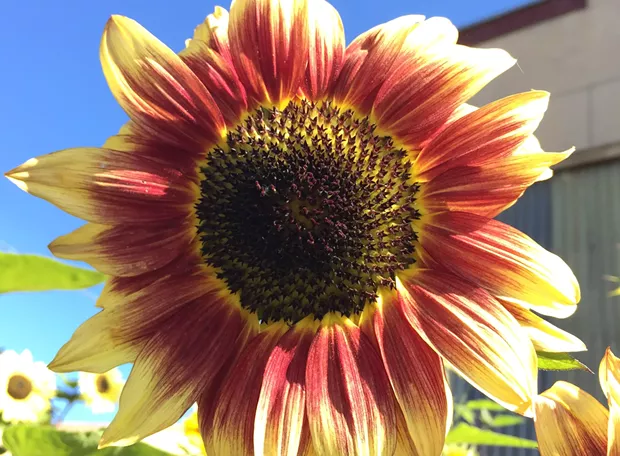 Jennifer Savage
"I brake for sunflowers"
Number of miles ridden (part one): 5.6
Time traveled: 23:54 minutes

Number of miles ridden (part two): 3
Time traveled: 22.43 minutes (This included a stop at the Co-op during which I left Strava on. Oops.)

Number of stop signs deliberately blown through (clear view of no cars! momentum! some guilt!): 1
Number of times actively feared for life: 1



https://www.strava.com/
Better than walking!
This was the kind of morning that made me think I'm not doing life right. The day started out well enough; I climbed out of bed at 6:30 a.m., spent 20 minutes cooking up veggies and pasta to take for lunch, another 15 making a mini-omelet, another 15 cleaning everything up and another 20 or so getting everything packed for my bike commute to work. This was my first ride in a couple weeks – I'd had to take my bike to the shop and then had gone out of town for a few days – and I was looking forward to pedaling through the gorgeousness outside.
But in addition to my regular job at the NEC, I also needed to go to HSU this morning because I've been hired to co-teach a class this fall and a lot of requisite paperwork was waiting to be filled out. Including the good ol' I-9 for which I would need my social security card.
Now, I am an organized person. Some people might say maybe even a little OCD. I've kept my social security card in the same place, in the same set of files, for years. Decades, probably. And yet, it was not there. I know, because I tore about the folder, the files, everything around the files, looking. This fruitless effort cost me 30 minutes, at which point I had to re-evaluate the pros and cons of riding my bike instead of driving.
Pros: Exercise! Beauty! Something to write about! Good feelings!
Cons: Wow, that's going to be a lot of extra travel time impacted my now compromised work schedule.
Biking won. I'll just eat lunch at my desk and power through.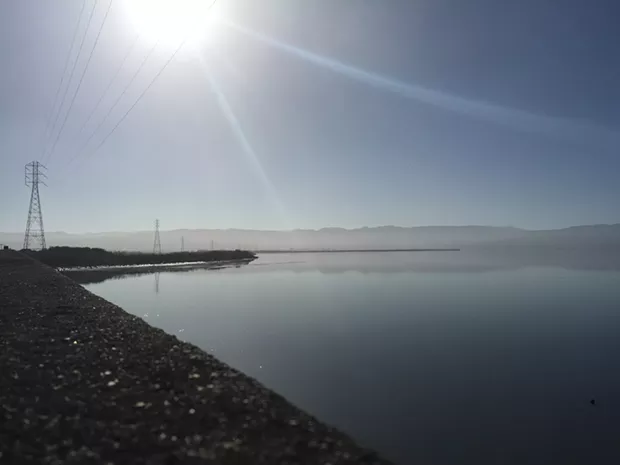 Jennifer Savage
From the bridge over Mad River Slough
Since I was in a hurry, I skipped the usual turn onto Jackson Ranch Road, staying on the highway instead – it's 1.2 miles less to go straight and the recent repaving allows me to maintain a higher speed than the poor potholed alternatives through the Bottoms. Of course, opting for this route also means cars going by me fast and close. Most of the drivers were kind enough to leave some distance, but one big truck barreled by near enough that I was buffeted by the air being displaced at high speed. Nerves, wracked.
Nonetheless, a fast and easy ride. I dropped off my excess gear (laptop, change of clothes, etc.) and then continued on up the hill to HSU.
Confession: I had a clear line of vision on the 14th Street downhill and didn't bother to stop at all. Didn't even do any kind of courtesy slow down. As someone who tends to follow rules – and whom is deeply concerned about being A Good Bicyclist – I felt a twinge of "Sorry!" But even more I enjoyed having the momentum to coast for a moment on the LK Wood uphill.
Question: How wrong is this?
Showed up for paperwork sweaty and didn't care too much about it. Still need to deal with the missing social security card issue, but the sunshine and endorphins shifted my perspective back into the "I'm sure it'll all work out" mode. (Score one, biking!) In the meantime, a friend messaged he'd just finished a 30.9-mile ride purely for joy and exercise, which provided a teensy bit of camaraderie and a whole lot of "Wow."
Jennifer Savage
Hello, bike boulevard!
Haven't figured exactly what I'm going to do about my 4 p.m. meeting in Eureka, ride or catch the bus, but I'm sure it'll all work out.