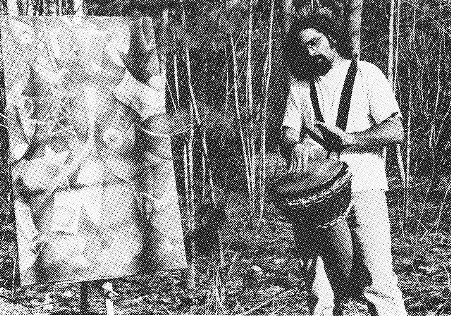 Courtesy of Special Collections, Eric V. Hauser Memorial LIbrary, Reed College
Reetpaul Singh Rana, pictured during his time at Oregon's Reed College, where he graduated with a psychology degree before becoming a journalist.
Two men accused of the 2008 robbery and murder of a San Francisco man in Southern Humboldt have reached plea agreements with federal prosecutors.
Ryan Carroll and Robert Lee, both accused in the killing of 35-year-old Reetpaul Singh Rana in a marijuana deal gone bad on Dyerville Loop Road, north of Alderpoint, each reached agreements with prosecutors this month, just weeks after a judge ruled their confessions couldn't be used against them at trial because detectives violated their rights.
Carroll, whom prosecutors fingered as the one who shot Rana, pleaded guilty to a single count of using a firearm in the commission of a crime of violence causing death (essentially the federal equivalent of a voluntary manslaughter charge). He will be sentenced to serve 15 years under the agreement, according to his attorney, Severa Keith. Lee pleaded guilty to being an accessory after the fact and maliciously burning a vehicle, and will be sentenced to seven years under the agreement, according to court documents.
Both men are scheduled to be sentenced Oct. 14 by a federal judge, who can reject the deal outright but cannot impose a harsher sentence than those negotiated in the agreement.
Keith said she's pleased with the agreement, saying it was fueled in a large part by the recent ruling to suppress potentially incriminating statements both defendants made to investigators during interrogations in the case because Humboldt County detectives failed to advise them of their Miranda rights. (Read more about the case, the interrogations and the judge's ruling
here
.)
Still, Keith said Carroll wrestled with whether to take the deal, under which he's admitting to a serious, violent offense. Ultimately, however, Keith said Carroll was facing a life sentence, so the prospect of a relatively short determinant prison stint was too much for him to turn down.
With credit for good conduct, federal inmates serve 85 percent of their sentences, and Carroll and Lee will also get credits for all the time they've already served behind bars on this case, according to Keith. That means Carroll, who was arrested in January of 2010, could be released from federal custody in about seven years. Lee, arrested in October of 2011, could be released in two. Both men are also likely to serve the last 12 to 18 months of their sentences out of prison in federal half-way houses.
"I'm happy that Ryan is going to get his life back in a few years and be able to move on," Keith said.