Number of miles ridden: 21
Time traveled: 2 hours 05 minutes 31 seconds
Number of times scolded for not wearing helmet: 1 (the scolding worked)
Number of times actively feared for life: 3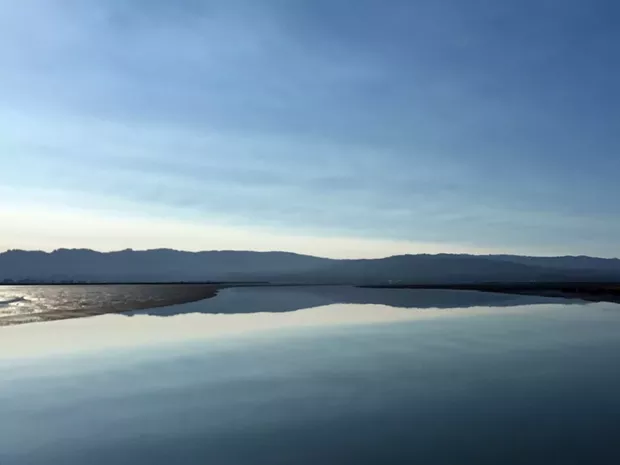 Jennifer Savage
The view from Mad River Slough bridge is even better from a bicycle.
Due to my bike needing repair and then some time out of town, I hadn't ridden other than when I pedaled out to shoot the
Humboldt Bay Marathon
– wow, was that fun. And fun to bike around on a closed-to-cars road. But with my bike fixed (thanks,
Revolution
!) and my work once again based in Arcata, I was ready to give the bike commute another go.
The day's mission exceeded the simple back and forth. I'd need to ride not only to work, but to my dental appointment, to HSU to file the final paperwork for my new side gig co-teaching Environmental Communication, to my friend Beth's house to pick up veggies and then finally bike back home.
In a car, the driving time would've accumulated to about 45 minutes. On a bike, over two hours total. Other things I might have done with that extra hour and 15 minutes would likely have involved going for a walk on the beach or to the gym or for a hike, so the outdoors and exercise tradeoff worked out okay – but if the surf had been better, I'd have surfed and then had to drive. Commuting by bike definitely constricts one's time in a way driving doesn't.
Jennifer Savage
The Arcata Bottom is a fragrant place. Hey, cows!
I spent a couple early hours working from home to make up for the time I'd be taking off later, then loaded up my panniers with the requisite change of clothes, laptop, etc., and hit the road. Stopped at Mad River Slough to take a photo because the tide being high and the wind being low made for an irresistibly glassy bay. Pedaled my way through the Bottoms, cruised into Arcata via the "Bike Blvd" and was navigating the potholes of N Street when my cell dinged. Apparently the 9 a.m. meeting I thought was next week was today. Oops. I rerouted to T's Cafe – and let's note that the day before I'd surfed two hours in San Francisco, driven home without showering, hair knotted up in a French braid, slept that way and still hadn't bothered showering since I was riding my bike and planning on cleaning up in the office showers. So I showed up salty, sweaty and with hair big enough that I could have been a time traveler from the 1970s.
But, whatever.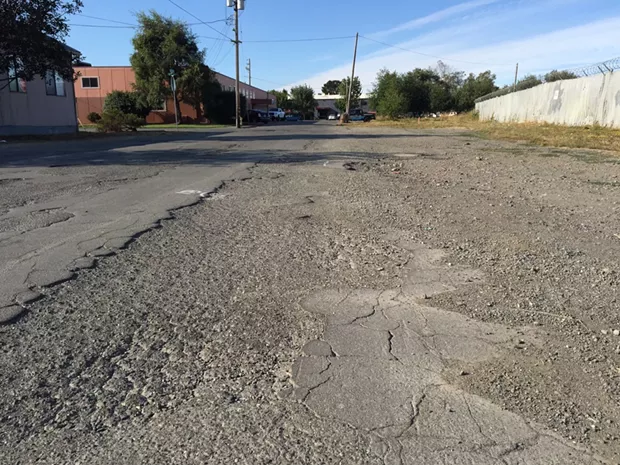 Jennifer Savage
Man, this street is rough!
I met, ate and pedaled back to the office, where I at last took a shower and changed from padded pants and a T-shirt into a cute dress. I will say at this point that bicycling around town in a dress has some drawbacks.
After working for a few hours, I biked the few blocks over to the dentist's office, where they proceeded to resolve a pressing cavity with a jackhammer and the other usual tools of the dental trade. (They're very nice there.) As Dr. Barsanti had numbed me up beforehand, the actual filling didn't hurt, but by the time I reached HSU, my cheek had swelled up notably, which made for a particularly pathetic ID photo – I'd finally arrived in the academic world and the identification I have to prove it shows me looking like I'm about to cry and am possibly being held at gunpoint.
On my way back to work, I detoured to CVS for some Advil. Along the way, I stopped at a stop sign (good on me) and, distracted by the throbbing of my cheek, momentarily forgot to twist my shoe out of the pedal. Fortunately the tilting over happened slowly enough that I was able to get my foot out and on the ground in time – I would've laughed at myself, but my mouth was hurting too much for amusement. (But please, let's picture the scene and share a giggle: There I am, on my blue bike, wearing a short ruffle-y orange dress, big red helmet on my head, jiggling my foot in a panic as I slow motion sideways toward the pavement. Oh, you poor lady.)
Thursday continued to unfold as That Kind of Day as my post-work veggie pickup transformed into a stint helping my friends track down the owners of a dog that followed one of them home. By the time I hopped back on my bike, panniers now laden down with not just extra clothes and my computer, but zucchini, tomatoes and other farm share bounty, the sun had dropped low enough I was concerned about making it home before dark. I don't have lights on my bike at the moment – a crash in my driveway had broken the front one and the back one needs a battery – so my girlfriend loaned me a "butt light" and off I went, pedaling down Upper Bay Road to Siedel to Foster. If these roads weren't so broken and battered, the network of highway alternatives would serve cyclists well.
Jennifer Savage
The view from the other side of the Mad River Slough bridge, return trip.
Despite a couple close cars on the highway, I made it home without incident. (Insert standard plea for safer cycling routes.) My husband greeted me in the driveway and helped me lug my bags inside. I realize this kind of commuting is such a small deal, but given the pace of and responsibilities within my life, operating without the convenience of a car feels like a big challenge at times. Accomplishing all the day's to-dos by bike felt good. And each little success chips away at my reluctance to ride.
Via Strava.com
Strava is a fantastic way to track your rides and also to see how all your friends are faster, bolder and generally more badass than yourself.