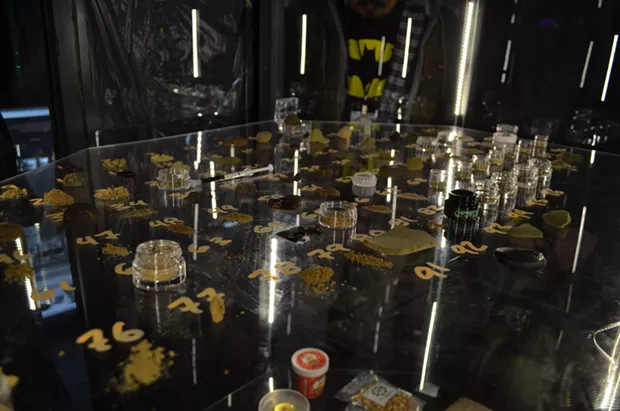 Grant Scott-Goforth
Medical marijuana concentrates at the 2014 Emerald Cup.
The first substantial regulation in 20 years of medical marijuana in California is headed to a vote in the next couple weeks.
As reported in the
Week in Weed
, staff members for state Sen. Mike McGuire and assemblymen Jim Wood and Rob Bonta were scrambling early this week to get final amendments into their legislation so they could be reviewed in time for the voting deadline.
All three bills came out of committees with approval, and with "intent language," meaning they still have time to refine some specifics in the bill. Wood's spokesman Paul Ramey said he expects the bill to go the Assembly floor for a vote in the next week or two. The three bills have been tied together, which means all of them must pass in order for any of them to pass.
"We're feeling optimistic," Ramey said.
If the bills pass, they will go to Gov. Jerry Brown for approval. Ramey said the governor's office is working with Wood to help ensure that the final language of the bill is to the governor's liking.
McGuire is optimistic as well, saying senate and assembly staff have put in thousands of hours on the bills over the last several months. "We've been working hard to make sure that there's going to be a comprehensive statewide program for medical cannabis that recognizes the unique role the North Coast plays in the industry."
McGuire said he expects his bill and Bonta's assembly bill will end up merged, with Wood's assembly bill, which focuses more specifically on regulating cannabis cultivation, going forward on a "parallel track."
He said there are more similarities than differences between his and Bonta's bills. "I'm optimistic that after nearly two decades, legislation will finally be advanced in 2015. We're making up for 20 years of inaction and it takes a lot of work on all sides to be able to draw consensus."
In an emailed statement, Wood said "Almost 20 years since the passage of Proposition 215 the Legislature and the governor are very close to consensus on regulating medical marijuana. There are still a lot of moving parts. As we move into the final days of the legislative session, I am working closely with the administration to finalize the components of AB 243 so we can ensure this important legislation will be enacted. AB 243 provides a critical component in the overall regulation of the cannabis industry by creating a funding source to address the environmental devastation that is occurring in our forests and watersheds."