Linda Stansberry
Arcata Mayor Michael Winkler, Beth Matsumoto of Humboldt Bay Housing Development and others prepare to cut the ribbon.
Humboldt County's newest and shiniest low income housing project is open for business, and it's already full. The Arcata Bay Crossing, tucked between the freeway and South G Street, is a collaborative project by the Humboldt Bay Housing Development Corporation, the Rural Communities Housing Development Corporation and several local governmental and non-profit organizations. A robust crowd of well-wishers attended today's ribbon-cutting, including a smattering of local notables, politicians and recently housed residents.
Linda Stansberry
John Cope holds the keys to his new home.
"I'm really happy to be here," said John Cope, who moved into his new apartment at the Crossing two weeks ago. "It's well built and well furnished. I can appreciate what a tough thing this was to put together."
Cope has been homeless and living in his van for the last two years. He lost his home in Fortuna after a bad breakup. For a while he lived in a motel, which he says was "not the best place." His counselor got him on the list for the Crossing, and, to his surprise, he got in.
The facility includes 31 studio units, each with its own bathroom and kitchen. Fifteen units are dedicated to people with serious mental illness, a provision of the Mental Health Services Act. The Humboldt County Department of Health and Human Services helped facilitate funding for the project, which exemplifies a "housing first" model that's beginning to gain ground in social service entities.
"In Arcata we end homelessness by building housing," said Fox Olson, executive director of the Arcata House Partnership. Arcata House and Mobile Medical are both service providers for Arcata Bay Crossing. "I want the rest of the county to take note."
Four additional units are for chronically homeless clients, meeting guidelines for HUD permanent supportive housing, and another 12 are for low income households (under $24,360 a year). The facility also boasts a laundry, community room, common area and meeting room. Dr. Asha George, with County Mental Health, and Barbara LaHaie, with DHHS, discussed the impact and importance of the facility.
"For our folks that are living here, this is the first opportunity in a long time to have a place to call home," said LaHaie.
George shared her experiences counseling clients who were chronically homeless, including a man who developed a leg injury from sleeping in his cramped car. It was challenging to offer meaningful therapy to people who had nowhere to go after the appointment was over, she said.
"Nationally, we know one-third of homeless people suffer from mental illness, and half report issues with substance abuse," she said. "Housing should be the first treatment."
Supervisor Mark Lovelace echoed her words, referring to the countywide conversation about homelessness.
"We can talk about this issue all we want, but nothing's going to happen if we don't talk about housing," he said.
The apartments, which rent at $302 to $604 a month, meet GreenPoint Rated Certification, with solar energy eliminating the cost of most utilities. The structure was designed by Philippe Lapotre, and built by Pacific Builders. It cost $5.7 million to complete, with funding and support coming from federal grants and loans, as well as the city of Arcata and the Humboldt Area Foundation.
Tony Lucchesi of Pacific Builders said that he took special pride in his company's work for this project.
"It feels great," he said. "It wasn't an easy project but to come back and see people who would otherwise be ill-housed or not housed at all here, it feels very good."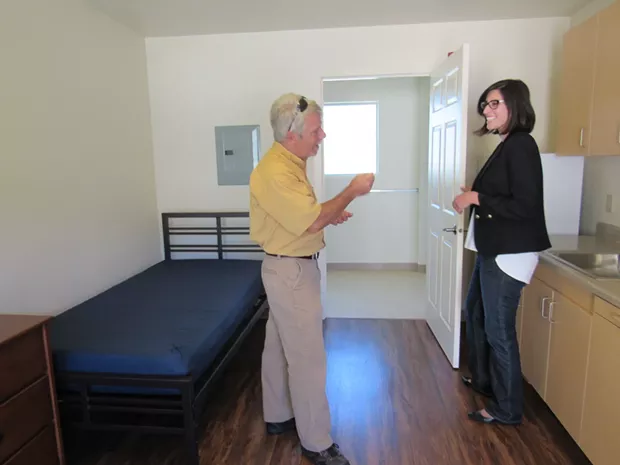 Linda Stansberry
County Supervisor Mark Lovelace and Arcata City Councilmember Sofia Pereira check out the interior of one of the new apartments.
Linda Stansberry
Fox Olson and Tony Lucchesi