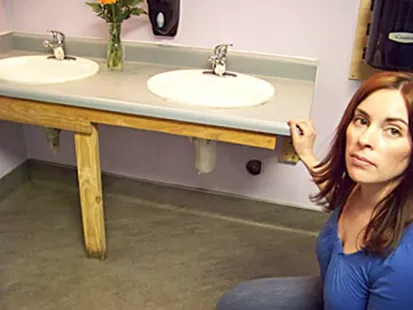 Heidi Walters
Six Rivers Brewery co-owner Meredith Maier shows off the wheelchair-accessible sinks remodeled after a 2008 suit.
Local businesses looking to avoid litigation and make their facilities more ADA accessible may soon have access to some extra cash. Gov. Jerry Brown just approved Assembly Bill 1230, creating the California Americans with Disabilities Capital Access Loan Program. The bill transfers $10 million from the State's general fund to provide affordable construction loans to small businesses so they can become ADA compliant.
But the bill is about more than helping ADA customers. It's also intended to help immunize small businesses against predatory litigation. The bill's author, Assemblymember Jimmy Gomez, says more than 40 percent of the nation's total ADA lawsuits are filed in California, and the majority of such lawsuits are filed by attorneys motivated by money rather than altruism.
Such lawsuits have impacted several local businesses hit by serial suer, lawyer Jason Singleton, who has filed ADA suits against
a few dozen local businesses
on behalf of disabled clients.
In a 2013 press release,
Singleton said he "has done more to improve access for people with disabilities and remove architectural barriers than any one person in the County's history."
But many business owners charge Singleton with being an opportunist who leveraged small breaches in compliance into personal profit.
Talia Nachshon, co-owner of Six Rivers Brewery, says she and her business partner Meredith Maier were blindsided by the 2008 suit stating their women's bathroom was not ADA-compliant. The building had been remodeled in 1997, and Nachshon and Maier thought it was up to code when they bought it. An inspection upon purchase had revealed no issues. But Singleton found inconsistencies in the height of the bathroom's paper towel dispenser, stall size and door width. He successfully sued on behalf of a disabled client. The business settled, paying out $50,000 in legal fees and repairs.
Nachshon says the suit had a huge impact on the brewery, which she and Maier had only been running for two years.
"It was a crusher, that's what it was," she says. They made extreme cuts to staffing, entertainment and other areas to stay afloat. Several other local businesses such as the Arctic Circle in Eureka and Porter Street Barbecue in Arcata closed down, unable to invest in the needed ADA improvements in the wake of Singleton's lawsuits.
When asked about the bill, Nachshon says it would have been "fantastic" to have such a resource at the time of their suit.
"That would have been something that would have helped us considerably," she says. "In our business, you live and learn, and you have to move forward. We just took it and moved on."
From the State Treasurer's Office:
SACRAMENTO - Treasurer John Chiang issued the following statement regarding Governor Jerry Brown's approval of Assembly Bill 1230, which creates the California Americans with Disabilities Small Business Capital Access Loan Program.


"By providing neighborhood businesses with affordable access to construction loans to widen doorways, build accessible parking, and include wheelchair-friendly restrooms, we are providing disabled Californians with access to the ordinary life that so many of us take for granted," Chiang said. "While this is a win-win for mom-and-pop businesses and their disabled customers, the big loser is predatory litigation brought under the banner of the Americans with Disabilities Act. Such litigation is nothing more than a shakedown leaving businesses poorer and the disabled no better off."


"More than 40 percent of the nation's ADA lawsuits are filed in California, often by predatory litigators looking for statutory penalties rather than remedial relief," said Assemblymember Jimmy Gomez, who authored AB 1230. "By helping small businesses meet ADA regulations, we protect them from predatory lawsuits, while expanding accessibility for disabled Californians."


AB 1230, which creates a first-of-its-kind program in the nation, will assist small businesses in qualifying for loans to retrofit existing facilities to comply with the Federal Americans with Disabilities Act (ADA).The program is designed to be self-sustaining with an initial transfer of $10 million from the State's General Fund to serve as seed money. Low administrative costs will help keep the program fiscally prudent, while annual interest collections and low default rates will make the program self-sustaining in future years.


Treasurer Chiang chairs the California Pollution Control Financing Authority (CPCFA), which administers the well-established California Capital Access Program (CalCAP) to provide lenders with credit enhancements encouraging small business loans that might not otherwise be possible. CPCFA has offered CalCAP since 1994. The program is an important resource for small businesses whose owners want access to capital in California. Through CalCAP, CPCFA deposits a cash premium into an account for each qualifying loan that a lender enrolls in the program, from which lenders can later apply for a claim in the event of default. The measure will take effect January 1, 2016.


Predatory litigation weakens the rights of the disabled community by compelling small businesses to spend more money on legal fees and costs than on improving their establishments to improve accessibility.


AB 1230 is supported by Disability Rights California, the California Small Business Association and the National Federation of Independent Business.


"I want to thank Assemblymember Gomez for his leadership and collaboration in making this important program a reality," Chiang added. "By providing the means to eliminate barriers for the more than 4.8 million disabled Californians, we are helping turn disability into ability."