Linda Stansberry
Marsh camper Brittany sits with her belongings and dogs Prince and Xena.
The Eureka Police Department, Humboldt County County Sheriff's Office and City of Eureka visited the PalCo Marsh area behind the Bayshore Mall yesterday to remove traces of homeless camps.
EPD
recently announced
officers would do less enforcement on a specific area of the marsh, just north of the Bayshore Mall. Campers were told that they must move or face arrest under the city's no camping ordinance. An orange line was painted across the service road to indicate the boundaries of the area.
In a phone call, Chief Andy Mills underscored that the city is not "giving anybody permission to camp there," but rather the area would be a "less enforced location" where people could camp while they actively look for alternatives.
On the day we visited, EPD Capt. Steve Watson confirmed one person had been arrested, a "hold out" who refused to move his camp. There were also two previous arrests of individuals who were on probation. EPD has also visited camps in other parts of the city in recent days.
The Eureka Police Department reports officers found more than $31,000 in stolen property during yesterday's cleanup, including stolen construction equipment and bicycles.
The city council will meet next Tuesday to revisit its controversial
Open Space Property Management Plan
. A Sept. 1 discussion of the proposed ordinance, which included language around the storage of personal property intended to "manage problems associated with camping,"
drew hours of public comment
. The item was ultimately tabled, to be revisited in January, but at a subsequent meeting Councilmember Kim Bergel revived the issue, saying it was imperative to establish a definitive timetable for the hundreds of people camping in Eureka's greenbelts.
Those living behind the mall (an area sometimes called "The Devil's Playground") have received any number of deadlines and messages about when they would have to leave. One woman, Brittany (she declined to give her last name), said she and her boyfriend had been told five or six different things since moving to the marsh several months ago. The couple was evicted from the house they were living in because their roommate hadn't paid rent.
"They came down to do a warrant check and gave us 11 days to move out," said Brittany, referring to the 10-day eviction
notice in late July
, which was extended. "Then they came back to say they had a program once a month and to go to that. They came back a month ago again and
said we had to move down to the other end
. Two weeks ago there was a 24-hour eviction notice, but it didn't have a date on it. Then they came back and said they'd take people to jail if we didn't leave."
In a phone call, Bergel said
messages often get confused
due to the "telephone game" of multiple people and agencies. Bergel also said a date had not been set for eviction, but that the revised Open Space Property Management plan would address the issues. The new plan says illegal camping behind the Bayshore Mall will be "strictly enforced," but that camping north of the area and south of Del Norte Street "will not be aggressively enforced, but will be addressed as necessary." It also says the city will pursue a potential location of one or more portable toilets. A housing market analysis by the research group Focus Strategies, originally slated to be out early this month, has been pushed forward. A representative with Focus Strategies said they will be visiting the area in November to present their findings to the council.
Bergel said she expects a great deal of comment at next week's meeting, partially due to a photo recently posted online of a large trash pile at the marsh. The pile had been gathered in cooperation with homeless campers, thanks to an advocate group called Friends of the Marsh. Roger Pryor, a Friends of the Marsh volunteer, said they had been communicating with the city to gather trash in a central location prior to the city's weekly cleanups.
"We were on this roll of picking it up on Wednesday, they were coming on Thursday and getting rid of it. I got the residents really dialed in and picking it up," he said. "But then the city stopped taking it away. I've asked for a dumpster but they say they don't want the appearance of a sanctioned camp."
Parks and Recreation Director Miles Slattery confirmed that there was a "somewhat unofficial" policy of picking up trash left by the campers in a centralized location, but their crews hadn't been to the area of the trash pile — on the flat opposite of the north parking lot — for several weeks. Both he and Bergel said it appeared that city residents had been using the pile as a dump site for household trash. Bergel said she saw dirty diapers in the pile; Slattery said he saw bales of shopping advertisements. The parking lot fence had been knocked down, making it accessible for vehicles.
"We get a lot of illegal dumping," Slattery said.
On Thursday, Mills visited the area and outlying camps on an ATV to tell those campers that hadn't moved that a Sheriff's Work Alternative Program crew would be visiting to clean out the area, along with EPD officers. The crew worked its way north from the Truesdale Street area, stopping first to clean up the large, unofficial dump and many shopping carts that had been collected at the north parking lot.
Officer Neil Hubbard, an EPD annuitant who was recently rehired with Measure Z funding, said the garbage pile was never endorsed by the city, and that it was entirely the doing of campers at the marsh. He said many S.W.A.P. workers, who are inmates at the local jail, were "disgusted" by what they had to clean up. Some of the inmates are previous marsh residents.
Brittany, who was sitting on the service road waiting for her boyfriend to arrive, said although they had been packed for a week they had put off moving from their spacious camp at the south end of the marsh until the last minute. The north end, she said, had more of a reputation for drug users and crime.
"We've had our shit stolen three or four times, but typically you won't see people shooting up dope on this end," she said, referring to the south end of the marsh.
She and her boyfriend aren't planning to be there much longer anyway, she said. Summer is coming to a close, and it will be getting cold. Both she and her boyfriend have jobs. She plans to take her dogs to her parents' house and start looking for a place to live.
She held onto her dogs as Hubbard drove past in an unmarked car, followed by the heavy equipment officer. The area around her bore evidence of previous campers: abandoned fire rings, the occasional shopping cart. But for the most part it was abandoned. The S.W.A.P. van rattled past, with one of the inmates shouting from the inside, "Get the hell out of here!"
"Whatever," Brittany said, as she tried to calm her barking dogs. "Give them a couple of months and they'll be living back here."
Linda Stansberry
Remains of an abandoned camp.
Linda Stansberry
Shopping carts hauled away on Thursday.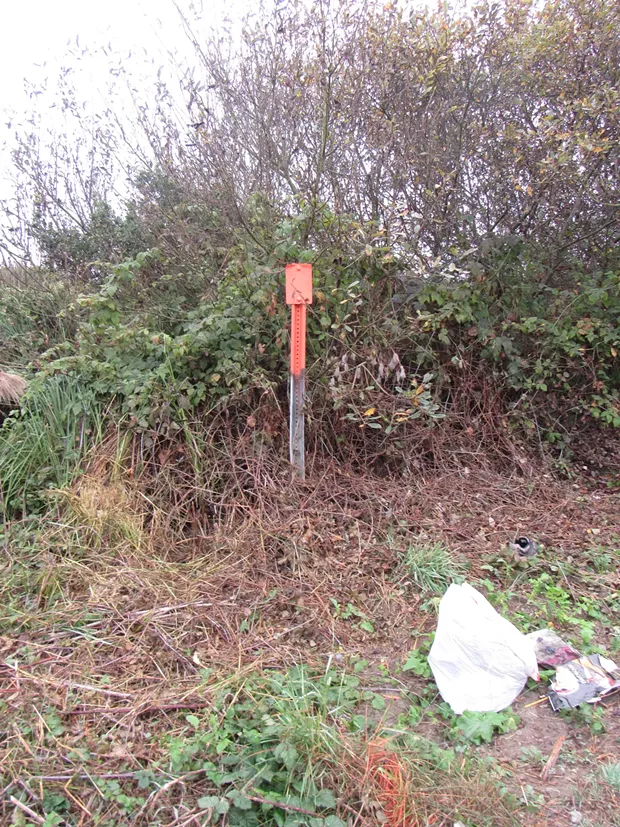 Linda Stansberry
A line drawn to mark the boundaries of the "no camping" zone behind the mall.