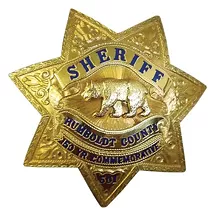 The Humboldt County Coroner's Office recently announced that it has ruled Justin Joseph Nevis' death a homicide, about two weeks after deputies
found
the 32-year-old's decomposing body near Scotia.
The Sacramento County man died of blood loss due to laceration wounds, and police believe his death is linked to an attempted home invasion robbery back in September during which the resident, John Pineal, says he used a knife to fight off a gun-toting Nevis. Pineal has
posted a detailed account
of what he says happened during the attempted home invasion — complete with theme music, a selfie he took of himself with a bloodied face after the alleged attack and boasts of being a 64-year-old "who took a knife to a gun fight with two men who were half his age … and won."
Humboldt County Sheriff's Office Lt. Wayne Hanson said Nevis' homicide remains under investigation. When the investigation is complete, Hanson said it will be turned over to the District Attorney's Office which will decide whether to bring any charges against Pineal. "There are penal code sections that allow justifiable homicide," Hanson said, "but that will be up to the DA's Office to decide. No arrests are anticipated at this time."
Hanson said Pineal was initially cooperative with the investigation but has since hired an attorney and been less forthcoming.
Nevis' death is the 38th homicide recorded in Humboldt County since the start of 2013 — the deadliest three-year period in at least three decades — and the 11th so far this year.
The full press release from the Humboldt County Sheriff's Office:
UPDATE

On 10-10-2015 an autopsy was performed at the Humboldt County Coroner's Office in Eureka by a Forensic Pathologist on Justin Nevis's body. The autopsy showed Nevis died from the results of severe blood loss due to laceration wounds. Humboldt County Sheriff Detectives believe Nevis is the suspect in the attempted home invasion on North Court, Scotia.

____________________________________________________________________________________
On Friday, October 2, 2015 at about 12:30 p.m. the Humboldt County Sheriff's Office was dispatched to the report of a foul smell from a possible deceased subject on North Court, Scotia. When deputies arrived on scene they located a dead body. The deceased subject was later positively identified through fingerprints as Justin Joseph Nevis, age 32, of Sacramento County.

Due to the location and decomposition of the body, it is possible this case is associated with case 201504517 – Investigation of a home invasion. An autopsy is pending to determine exact cause of death.

Anyone with information for the Sheriff's Office regarding this case or related criminal activity is encouraged to call the Sheriff's Office at 707-445-7251 or the Sheriff's Office Crime Tip line at 707-268-2539.