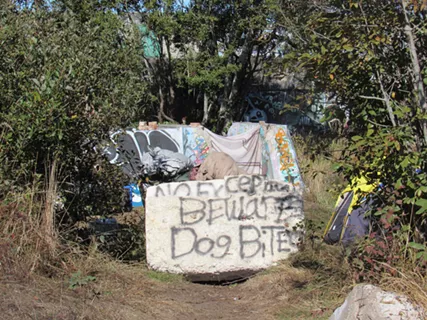 Linda Stansberry
A former camp behind the Bayshore Mall.
The Eureka City Council approved a plan aimed at reducing the size and number of illegal encampments within city limits last night after hours of passionate public comments. Councilmembers Linda Atkins, Melinda Ciarabellini and Marian Brady all voted in favor of the Open Space Property Management Plan, with Kim Bergel abstaining and Natalie Arroyo offering the lone dissenting vote.
The plan, which is a reworked version of the
Open Space Property Management Plan
that the council
tabled at its Sept. 1
meeting, states the goal of "incremental enforcement" against illegal camping, with strict enforcement behind the Bayshore Mall, and the removal of building materials such as wood pallets or tarps affixed to trees. The Eureka Police Department has been consolidating encampments to a smaller area just north of the Bayshore Mall for close to a month,
citing a recent spate of violence
among the homeless population.
Arroyo requested the plan be deferred for another month, saying she was concerned about environmental degradation but no exit plan had been established for the over 140 people camping behind the mall. A
housing market analysis from Focus Strategies
, originally due to be presented to the council early this month, is reportedly being pushed back until December, City Manager Greg Sparks said during Tuesday's meeting.
Many of the councilmembers expressed dismay at the "us-versus-them mentality" displayed during the public comment period. There was a near even amount of commentators in favor and opposed to the plan. Several members of the local business community, including Bayshore Mall General Manager Kirk White, said they had been negatively affected by criminal activity in the area.
"The status quo is simply unsustainable," said White, citing losses due to shoplifting and safety concerns. A business owner said a rifle had been pointed at his employees. Don Smullin, executive director of the Eureka Chamber of Commerce, proposed a "homeless-free buffer zone" behind the mall, expressing concern about having fires close to the Chevron fuel tanks.
But others protested equating homelessness with crime, and said the plan was being enacted as a strategy to uproot people at the beginning of winter in an effort to encourage them to leave town.
"I want to have a better coastline, I want to have my kids on the other side of that gate," said Erin Powers-Taylor, a member of the homeless advocacy group Friends of the Marsh. "But not if it hurts someone else."
Powers-Taylor and others also expressed frustration that the Focus Strategies report had been delayed.
Arroyo, visibly emotional, said she had received numerous calls from citizens saying that they may resolve the issue themselves "using a shotgun and a shovel."
"If this is our adopted plan, this would require us to address these issues more quickly," she said. "We need a community partner who will step up and help with this."
Bergel expressed her willingness to approve the plan, but asked for a more concrete timeline. She said a previous request to the city staff to develop a concrete exit date had been dismissed as "doomed to fail."
"I don't think we view this as an eviction-type process," said Sparks, drawing laughter from some in the audience.
Atkins, who moved to approve the plan, said she agreed that it was necessary to find a place for people in the marsh, but expressed willingness to view the plan as a living document that could be revisited and amended.
Brady shifted focus to Affordable Homeless Housing Alternatives, saying that the homeless advocacy group had failed to come up with an effective solution for an alternative location for the encampments. Incremental enforcement of the illegal encampment plan, as outlined by the plan, would offer "the nudge needed" to get people to use resources, she said.
Ciarabellini said, "They're not campers. They're trespassers. They're trespassing on our property."
Discussion stretched for two hours, culminating with the council's 3-1 vote, with Bergel abstaining..
Jeannie Breslin, a local Neighborhood Watch organizer, expressed approval of the decision, saying the council members needed to take on a "parental role" and show leadership.
"Our merchants are outraged. We need to take ownership of our city," she said. "This is far more than a Eureka City problem, it's a Humboldt County problem. We can't be the cesspool of Humboldt County."