Mark McKenna
Police Chief Andy Mills (center) talks with officers at the scene of the fatal Oct. 21 shooting.
UPDATE:
A press release from the Eureka Police Department contains additional information about the arrest of murder suspect Derek Charles Payton, 22, of Eureka.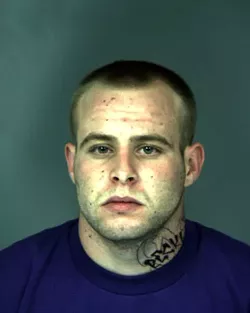 EPD
Derek Charles Payton
According to the release, Payton admitted to a detective that he opened fire on Elliot Michael Walin and another man during a marijuana-related dispute on the night of Oct. 21. Walin later died at a local hospital from a single gunshot wound to the torso that he sustained during the altercation.
Read the release copied below for additional information.
PREVIOUSLY:
Yesterday evening, the Eureka Police Department arrested Derek Charles Payton on suspicion of murder for the Oct. 21 shooting death of Elliot Michael Walin.

The arrest was first reported by local blogger
Kym Kemp
. Details remain scant at this point, and EPD plans to issue a press release within the hour. But Payton was taken into custody at 5:22 p.m. last night, and booked on suspicion of murder, violating a court protective order and a domestic violence charge.
Walin was
found
with a gunshot wound shortly before 10 p.m. on Oct. 21 after officers were dispatched to a call of shots fired near F and Watson streets. Later, another unidentified man was checked into a local hospital with a gunshot wound, and the department later confirmed the shootings were "connected."
We'll update this post with more information as it becomes available.
From the Eureka Police Department:
On Saturday, 10/24/15, at about 9:55 PM, officers with the Eureka Police Department were dispatched to the report of multiple shots heard in the vicinity of the 1500 block of F Street. Responding officers located a victim, Elliot Michael Walin (age 31 of Fortuna), lying in the roadway near the intersection of Watson and F Streets. Walin had sustained a single gunshot wound to his upper torso and was being attended to by a couple of citizens.

Medical aid was summoned and Walin was transported by ambulance to St. Joseph Hospital where he was later pronounced deceased. While this was occurring, hospital staff contacted the EPD Communications Center to report a second male gunshot victim had been brought to the emergency room by acquaintances who found him walking on Wabash Avenue. The second victim was uncooperative but admitted to investigators he was with Walin at the time the shooting occurred.

EPD quickly developed a number of strong investigative leads and a suspect was soon identified. On 11/02/15, at about 12:30 PM, EPD officers were dispatched to a motel on the 1200 block of Fourth Street regarding a suspicious person/circumstances call (involving a possible embezzled or stolen vehicle on scene). Upon arrival, officers located Derek Charles Payton (age 22 of Eureka) whom EPD investigators had previously identified as the suspect in the homicide. Payton was taken into custody on two misdemeanor domestic violence-related warrants and subsequently transported to EPD Headquarters where he was interviewed by the lead investigator on this case, Detective John Gordon.

During the interview, Payton confessed to having shot at both victims over a marijuana-related dispute. Payton was transported to the Humboldt County Correctional Facility where he was booked on his warrants and for 187(a) PC (Murder) and 245(a)(2) PC (Assault with a Deadly Weapon (Firearm). His bail was set at $1,050,000.00.

Meanwhile, EPD investigators obtained search warrants for a room and two vehicles associated with Payton at the motel. While securing the motel room, investigators detained a female occupant, Lindzy Rose Yee (age 30 of Eureka). Yee was on probation for drug related offenses.

During a subsequent search of the motel room, investigators located methamphetamine and heroin. Investigators also located and seized a handgun believed to have been used by Payton during the shooting.

Yee was arrested and transported to the Humboldt County Correctional Facility where she was booked for possession of controlled substance while armed, possession of drug paraphernalia, unlawful possession of a stun gun by a convicted felon, and probation violation.