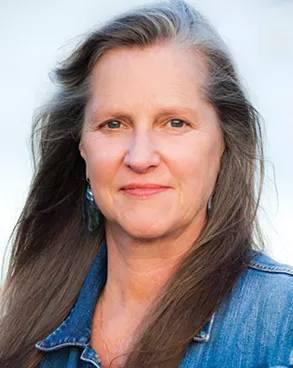 It looks like 5th Division Harbor candidates Patrick Higgins and Susan Rotwein are going to spend some time twisting in the wind.
When the smoke cleared, the final
Election Night
report had 12 votes separating the candidates, with Higgins, the incumbent, having stormed back from an early, vote-by-mail-ballot-driven deficit. Today, the elections office reports that there are hundreds of outstanding ballots in the race, and it may be weeks before a victor can be declared.
Humboldt County Registrar of Voters Kelly Sanders said about 660 vote-by-mail ballots were turned in to polling stations on Election Day, with 230 of them dropped off at 5th District precincts. Additionally, she said, hundreds of vote-by-mail ballots were dropped off at the elections office on Monday and Tuesday — including 360 5th District ballots — that remain uncounted. Then, there were 75 provisional ballots cast at 5th District polling locations on Election Day.
Sanders said that means there's somewhere in the neighborhood of 665 ballots yet to be counted in the 5th District race, but that number is sure to change. First of all, some of the provisional ballots could be tossed because the voter is ineligible and some vote-by-mail ballots could have been dropped off outside the voter's district, meaning ballots that showed up in the 5th really belong in a different district and visa-versa. And, finally, Sanders said a new state law that went into effect this year requires the elections office to accept and count vote-by-mail ballots received in the mail by this Friday, as long as they were postmarked on or before Election Day, leaving an entirely unknown number of ballots still technically in play.
That all combines to mean Rotwein and Higgins have a lot of waiting to do in a race that's already seen more than 3,600 ballots counted and currently has them separated by three-tenths of a percentage point. And these races can and do flip. Just think back to last November, when Eureka City Councilwoman Kim Bergel ended
Election Night
more than 100 votes behind incumbent Mike Newman. Two weeks later, she had a
46-vote lead
and was crowned the winner.
In the 5th District race, it's important to keep in mind that Rotwein rode the vote-by-mail ballots to a commanding early lead, taking 53.76 percent of the vote cast before this week. But, at the polls, Higgins more than flipped that script, hauling in 56.99 percent of the Election Day vote.
History has shown that the post-Election Day tallies generally more closely follow the poll trend than that of the early vote. That was the case with Bergel, who got pummeled in the early going, taking only 42.87 percent of the pre-election vote-by-mail ballots, but narrowed her deficit at the polls with 54.13 percent of the Election Day vote. Of the ballots counted after Election Day in that race, Bergel won 54.94 percent of them.
And Bergel's just the latest example of what's become a verified local trend.
Back to the 5th District. If we, for a moment, just assume for the sake of some quick math that there are 665 — and only 665 — ballots outstanding in the race, Rotwein would have to take 50.98 percent of them to come out ahead. That's more than 8 points better than she fared on Election Day.
It's entirely possible that happens, especially with a margin so slim. But, a Rotwein victory would buck Humboldt County's recent electoral history.
Sanders said she's hopeful to get a post-election results update out next Friday, but cautioned that would only include a portion of the outstanding ballots. It seems likely this race will hang in the balance until the election is certified Nov. 24.