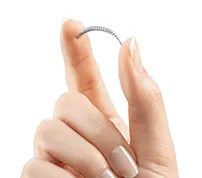 Courtesy of Bayer
The Essure contraception device.
A Pennsylvania congressman has introduced legislation that would ban Essure, the controversial permanent birth control device that has women across the country complaining of horrible side effects.
This week, Republican Congressman Mike Fitzpatrick introduced a bipartisan bill that would revoke the U.S. Food and Drug Administration's premarket approval status of the contraception device and require the pharmaceutical giant Bayer to immediately pull it from shelves.
"Bayer is a trusted name in the industry," the Republican congressman said in a press release. "However, right now, one of their products, the Essure device, is harming women and needs to be removed from the market."
Featured in "
Living Trials
," the
Journal
's March 5, 2015 cover story, Essure is marketed as a nonsurgical, non-hormonal alternative to tubal ligation sterilization. From the story:
"The device itself is made up of two 2-inch-long metal coils — one nickel titanium alloy, the other stainless steel — wrapped around polyester fibers. Using a scope device that enters the uterus through the vagina, a doctor implants one coil in each of the openings of a woman's fallopian tubes. There, the coils are designed to induce inflammation — an immune response as the body attempts to reject them. Over the course of three months following implantation, scar tissue — or a 'natural barrier,' as Bayer puts it — builds up around the coils, blocking the fallopian tubes and thus the ability of sperm to fertilize a woman's eggs."
North Coast Journal Graphic
An illustration of how Essure is supposed to work.
But, as we reported back in March, the procedure has been fraught with problems for some women like Eureka's Tamara Myers, who suffered a host of post-implantation complications.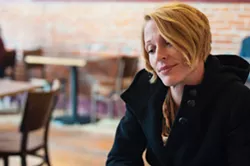 Mark McKenna
Eureka's Tamara Myers describes her Essure experience as akin to torture, followed by a poisoning.
First of all, Myers said the procedure itself was painful and left her faint and dizzy. But other symptoms followed almost immediately: swollen lymph nodes; a burning sensation in her veins, pelvis and abdomen; numbness in her face and arm; muscle twitches; fatigue; a jolting sensation that felt like electrical shocks; and a metallic taste in her mouth. Ultimately, Myers had the implants removed and underwent a full hysterectomy.
Myers is far from alone, as a
Facebook
group devoted to Essure problems quickly amassed thousands of members and took to lobbying Bayer, the FDA and, ultimately, Congress to take action. Fitzpatrick has now taken up that call. We'll update the bill's progress as it moves forward.