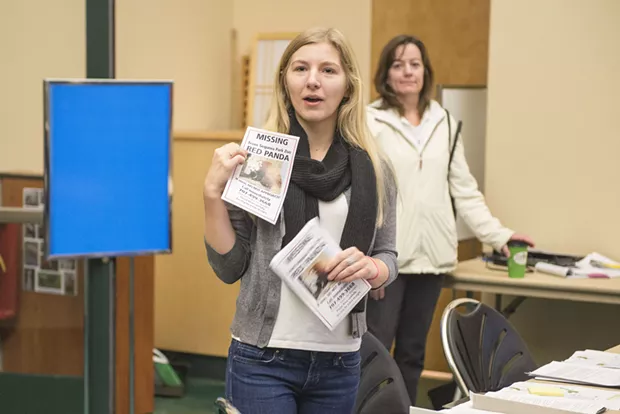 Mark McKenna
Sequoia Park Zoo Foundation Event and Volunteer Coordinator Chelsa Green, addresses volunteers gather at the zoo Saturday morning to look for Masala, a missing 18-month-old red panda that escaped from the zoo Thursday.
UPDATE: The Eureka Police Department announced this morning that Masala, the 18-month-old red panda on the lam from the Sequoia Park Zoo since Thursday, was found last night and returned to the zoo safe and sound.
From the EPD's Facebook announcement: "Masala is home safe! From Sequoia Park Zoo Manager Gretchen Ziegler: For those who are up this late — GREAT news! Masala is safe and sound back at the zoo after an alert citizen noticed her in the neighborhood and called EPD, who alerted zoo staff. A perfect rescue from a tree ended with us all sleeping better tonight! More of the story tomorrow. Welcome back, Masala — we missed you!"
We'll update this post with more information as we get it.
PREVIOUSLY:
More than 70 volunteers spent this morning canvassing the neighborhoods and forests surrounding the Sequoia Park Zoo, searching for Masala, the 18-month-old red panda that escaped its enclosure and went missing sometime Thursday.
Courtesy of the Sequoia Park Zoo
Masala
With the search for Masala entering its 48th hour, volunteers looked in backyards where bamboo — the raccoon-like animals' favorite food — was growing, and tromped through forests and gullies looking for the elusive arboreal mammal. But the searches came up empty.
Zoo Manager Gretchen Ziegler said she's hopeful someone in the community has thermal imaging equipment they'd be willing to loan the zoo to help zero in on Masala's location. Ziegler said red pandas have thick coats and are well acclimated to the local climate. The biggest worry is about her ability to stay clear of predators and find ample supplies of food and water.
The last unconfirmed sighting of Masala came in Thursday night, and had her heading southwest from the zoo in the area of Campton Road. Zoo staff have been unable to figure out how the animal escaped her enclosure between 11 a.m. and 2 p.m. Thursday, with Ziegler saying, "It was like she flew out."
The volunteer search parties today all contributed information that zoo staff is using to construct a map that identifies areas already searched and yards were bamboo is planted. The zoo also released a PDF — click the PDF below — explaining the types of bamboo that red pandas eat, and staff urged anyone living in the vicinity of the zoo and has these types planted in their yards to call the zoo's Masala hotline at 499-3668 to have zoo staff come and search for any signs of Masala. Similarly, Ziegler and staff are urging everyone to keep the hotline number handy and report any sightings immediately.
Local photographer Mark McKenna was there to record the search this morning and shared the following photos.
Bamboo types
Mark McKenna
Sequoia Park Zoo Manager Gretchen Ziegler addressed volunteers assembled to search for Masala an 18-month-old red panda that escaped from its zoo enclosure Thursday.
Mark McKenna
Sequoia Park Zoo Foundation Event and Volunteer Coordinator Chelsa Green assigns a search area to Megan and David Nims of Eureka. The couple brought their daughter Margot with them to search for the missing red panda Masla.
Mark McKenna
Nancy Kinziger and her children Ada, 6, and Benjamin, 8, of McKinleyville, came to help search for the Sequoia Park Zoo's missing red panda Masala. Benjamin brought along a stuffed red panda from the zoo's gift shop as a good luck charm.
Mark McKenna
Volunteers searching for Masala, the missing red panda, leave the Sequoia Park Zoo in Eureka with bamboo as they head to their assigned search area Saturday morning.
Mark McKenna
A search dog named Elsi was brought in to try and find a scent trail of the missing red panda Masala. According to her handler, conditions were fairly good for the wilderness trailing trained dog to follow a scent trail.
Mark McKenna
Sequoia Park Zoo Manager Gretchen Ziegler, left, talks with volunteers Jeanne Wielgus, of McKinleyville, and Wesley Frietas, of Eureka, about the location of bamboo they had found in the search area he was assigned Saturday Morning.