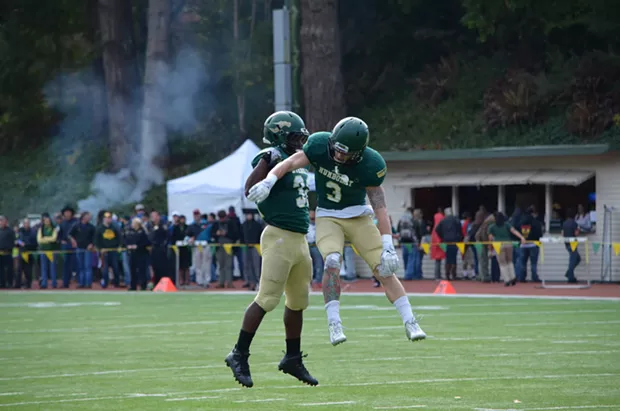 Grant Scott-Goforth
Wide receiver Chase Krivashei and tailback Ja'Quan Gardner celebrate a touchdown.
The Humboldt State University football team advanced to the second round of the NCAA Division II tournament today after beating South Dakota's Augustana University in a raucous game with back-and-forth offensive thrills.
Augustana returned the opening kickoff for a touchdown, quieting a full house of Jacks fans, but HSU quickly answered, and the teams went into the second half tied 17-17.
Grant Scott-Goforth
Ja'Quan Gardner ran for 246 yards.
The Jacks, who hadn't advanced into the postseason since 1968, broke it open in the second half,
going on to win
45-31.
HSU will play
Northwestern Missouri State in Maryland, Missouri on Nov. 28.
HSU has been racking up all sorts of recognition this season, most notably for sophomore tailback Ja'Quan Gardner, whose
record-setting season
got him recognized as the Great Northwest Athletic Conference's offensive player of the year.
Grant Scott-Goforth
Fans flocked to Redwood Bowl to support the Jacks.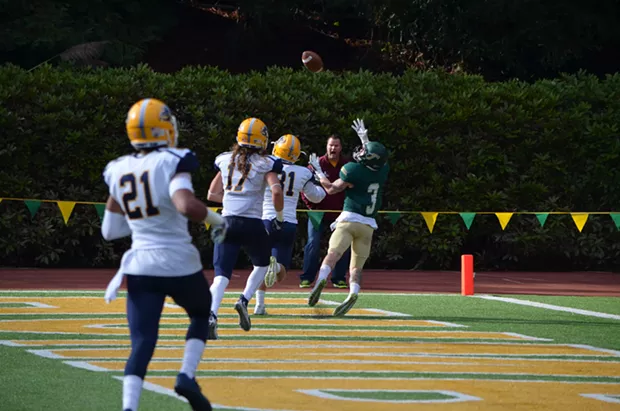 Grant Scott-Goforth
Wide receiver Chase Krivashei pulls in a touchdown pass.
Grant Scott-Goforth
HSU plays Northwestern Missouri State next weekend.
Grant Scott-Goforth
Head Coach Rob Smith congratulates the team.