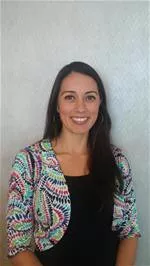 El Dorado County Health and Human Services Agency Deputy Director of Community Services Kristin Brinks.
Kristin Brinks, the county's new director of Health and Human Services hired last month and slated to begin in January, has decided she doesn't want the job. Brinks notified the board of supervisors Dec. 1 in a brief, awkwardly phrased letter that she would be declining the position just a couple of weeks after accepting it.
Here's the entire letter:
The Honorable Board of Supervisors:

It is with regret to notify you that after discussions with my family, for a variety of reasons, including my personal support network in the Sacramento region, and the satisfaction I have working with El Dorado County, I am unable to accept the position as the Director of Health and Human Services.

I am honored by the confidence you have all shown in me, and appreciative of all the efforts you and members of the community have made to make me feel welcome.

Both Brinks' letter and the county imply that she simply declined an offer that the county made to employ her. But on Nov. 17, Brinks
was appointed
to the $164,000-a-year job, and had verbally committed to begin work in January, even telling the Journal she was "excited" to get to work. The county has been searching for a new director since Phillip Crandall
announced his retirement
in February.
The Journal
has reached out to Brinks via email and telephone and will update if she responds. Here's a copy of her one page resume, which she provided to the county during the months-long hiring process:
See related PDF
From the county:
The Humboldt County Board of Supervisors will meet in closed session on Tuesday to discuss the position of Director of the Department of Health & Human Services as Kristin Brinks, who was recently appointed to the post, declined the offer.

The Board announced Brinks' appointment on Nov. 17. She was scheduled to begin work in January. On Dec. 1 Brinks sent a letter to the Board informing the supervisors of her decision. In her letter, Brinks cited her personal support network in the Sacramento region and the satisfaction she has in El Dorado County, where she works currently.

Depending on the Board's actions Tuesday, there may or may not be information to report out of closed session.