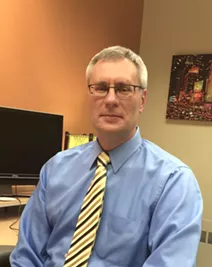 Humboldt State University's next provost will arrive on campus in January with a fair amount of baggage from his last stint as an administrator, for which he's remembered as either a rogue dean or fierce equality advocate, depending on whom you ask.
Alexander Enyedi, who's hire was announced by HSU President Lisa Rossbacher Dec. 1 following a more than a year-long search, is currently a biology professor at Western Michigan University, where he served as dean of the College of Arts and Sciences until June, when his contract was unceremoniously allowed to expire. WMU Provost Timothy J. Greene's decision not to renew Enyedi's contract — and to effectively strip him of dean duties back in January — caused a bit of a firestorm on campus, where 200 people showed up at a board of trustees meeting to support Enyedi, a pair of deans resigned in solidarity, 1,300 people signed a petition demanding his reinstatement and faculty issued Greene a no-confidence vote over the decision.
"Many are worried that an effective campus leader is being fired for consistently speaking out about diversity-related issues, in particular, gender equity," Cathryn Bailey, one of the aforementioned deans who resigned in solidarity, told the
Chronicle of Higher Education
.
In an email sent to faculty, Greene said his decision not to renew Enyedi's contract was due to several issues, including "declines in enrollment, declines in funded research, expectations of how to manage budget allocations, transparency in communications to university administrators and support for decisions made by either the provost's council or by me."
Greene later expounded on that last point: "For the orderly management of a university, there has to be a recognized organizational structure and rules of management. While there should be vigorous discussions among management leaders, in this case the deans, there comes a time when a decision is made by the senior manager. Once a decision is made, then the deans must implement and support that decision. If they cannot implement the decision, then they have the obligation to relinquish their leadership position and return to the faculty … Quite simply put, when any manager acts in opposition to a leadership directive, that person would normally expect to no longer be a member of the management team."
Enyedi, who was appointed to the dean post in 2010, told
Michigan Live
he believed he was being ousted from the post due to his requests to issue salary adjustments for female officers workers at the college. University administration denied the request, but instead reported suggested Enyedi submit staff excellence awards for the employees' he was seeking raises for, as the awards come with cash bonuses. Enyedi then applied for awards for 45 female employees, according to the Michigan Live report, and all were awarded with an accompanying $4,000 cash gift.
But Enyedi told the publication that other colleges at the university then attempted to do the same, but were denied, causing some discord.
Enyedi was apparently very well liked even prior to the controversy, as 91 percent of WMU's College of Arts and Sciences faculty said in 2014 that they wanted him to continue as dean.
In a campus-wide email announcing Enyedi's hire, Rossbacher praised his scientific research and his leadership at WMU. "In addition to this broad academic and administrative experience, I believe other aspects of Alex's background make him a good fit with Humboldt State, including his deep commitment to diversity, equity and social justice," she wrote. "His efforts in these areas include faculty and staff hiring initiatives to increase the number of traditionally underrepresented members of the college, his advocacy for gender equity, and the support both he and his wife Andrea have demonstrated for the LGBTQ communities."
In his resume submitted to HSU, Enyedi included two blurbs about his time as dean at WMU that should be of notable interest at HSU, where the faculty administration has complained of a top-down system of governance and which has historically struggled to attract and retain minority faculty. Enyedi noted his "deep commitment to diversity and inclusive excellence," noting that his college became a "role model" for diversity and inclusion activities, and that he launched a number of hiring initiatives to successfully increase the number of underrepresented members of the college. Additionally, Enyedi trumpeted his support of "shared governance and transparent communication on campus," touting his establishment of a wide reaching communication network at WMU.
Enyedi is slated to be HSU's first provost since Bob Snyder retired at the conclusion of the 2013-2014 school year, after a controversial seven-year
tenure
marred by deep budget cuts and a painful program elimination process. Theo Kalikow has served as interim provost since Snyder's retirement, and will stay on through late January to aid the transition.