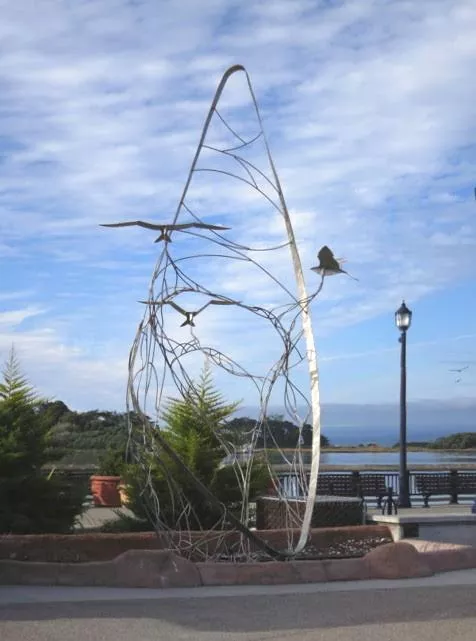 Courtesy of the Ink People
"Following Current Events" with all its birds intact.
Somewhere between the night of Thursday, Dec. 3 and the following morning, someone pried one of the enormous metal birds off Jack Sewell's "Following Current Events," the kinetic sculpture at the C Street Market Square. The birds, made of 1/4-inch-thick aluminum, are positioned between 11 and 15 feet up, with wingspans of 5 1/2 feet.
If you're the vandal/thief/cheapskate art collector trying to mount it over your couch right now — or if you, like, found it — you can turn it in anonymously at the Eureka Main Street office at 525 Second St. #105 and they will be totally cool about it. Likewise, if you see someone hopelessly trying to
feng shui
said bird in his or her apartment, please call Charlotte McDonald of Eureka Main Street at 442-9054.
The shining silvery web of metal, which stands 23 feet tall and rotates with the wind over a pool of water, took 700 pounds of steel and $30,000 to create. The Eureka Art and Culture Commission selected Sewell's design for the location in and paid for his work with redevelopment funds. In an
interview
with the
Journal
just before he installed the sculpture in 2012, Sewell said of public art, "Every chance you get to kind of take someone out of their cell phone mode and over into looking at something and taking their minds off of things for just a few moments, well then public art has been successful to that degree."