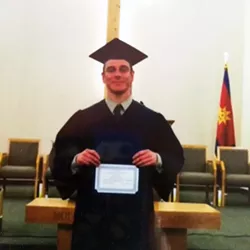 Submitted
Jason Dale Johnson receiving his high school diploma last spring.
College of the Redwoods is asking the community to donate to a scholarship fund in honor of Fortuna High grad Jason Dale Johnson, who was killed in the Umpqua Community College shooting in Oregon on
Oct. 1
.
Johnson had recently completed a six-month treatment program and, as part of a "new way of life, clean and sober," had returned to complete his education just three days before the mass shooting claimed his life.
"He was turning his life around and he was ready for a change" his cousin and CR staff member Jennifer Bailey said in a press release. "He always extended his hand to those who were hurting. He was always one for the underdog."
College of Redwoods is working with the community to establish a scholarship in Johnson's name that will aid students, "just like Jason, who need financial assistance as they pursue their own triumphant return to college."
The college hopes to raise $2,000 by March 1, so it can begin offering the scholarship to returning students in the fall of 2016.
Anyone interested in donating to the scholarship fund can contact CR's Scholarship office at 476-4191, or email Jordan-walsh@redwoods.edu.
From College of the Redwoods:
Jason Dale Johnson was just three days into his return as a student at Umpqua Community College when his brightly lit future was suddenly taken on October 1st, 2015.

Before his passing, and upon his return from a six-month treatment program through the Salvation Army, Jason found a new way of life, clean and sober.

Jason's story is that of redemption, grace and courage.

Studying general education, Jason was determined to meet his educational goals through Umpqua Community College. "He was turning his life around and he was ready for a change" said his cousin, and CR staff member, Jennifer Bailey. "He always extended his hand to those who were hurting. He was always one for the underdog."

In light of this terrible tragedy that prevented Jason from pursuing his own path of triumph, the Redwoods Community College District family asks the community to help create a special scholarship for students, just like Jason, who need financial assistance as they pursue their own triumphant return to college.

CR's goal is to raise $2,000 in efforts to create a scholarship that will forever live on in Jason's name, a kind-hearted and daring individual who never gave up.

We have the opportunity to lend our hand to honor Jason, by contributing to the Jason Dale Johnson Triumphant Return Scholarship.

Although donations will be always be accepted, the Scholarship Office hopes to reach our goal by March 1st so we may begin to offer this scholarship to students beginning in fall of 2016.

For more information, please contact the CR Scholarship office at 707-476-4191, or email Jordan-walsh@redwoods.edu