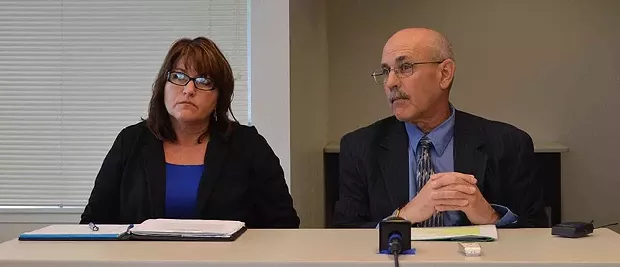 Grant Scott-Goforth
Connie Beck and Phillip Crandall
The egress of two major county employees has prompted the Humboldt County Board of Supervisors to fill their seats with interim appointments. Cheryl Dillingham will step in as county administrative officer,
taking the place of Phillip Smith-Hanes
, who resigned this morning to take a position in Kansas. Dillingham has served as assistant CAO since 2012.
Connie Beck, currently assistant director of administration for the Department of Health and Human Services, will step in as head of that department following the retirement of 31-year county employee Phillip Crandall. The search for a DHHS director has been bumpy, with ongoing controversy over the
reportedly-beleaguered mental health branch
, and has already garnered one dead end. Kristin Brinks, a candidate hired in November,
pulled out of the position on Dec. 1
. County officials had no comment on the search for a permanent replacement for Crandall at this time.
From the County Administrative Office:
The Humboldt County Board of Supervisors today appointed Cheryl Dillingham to the position of interim County Administrative Officer (CAO) and Connie Beck to the position of interim Director of the Department of Health & Human Services (DHHS).

Dillingham will replace current CAO Phillip Smith-Hanes, who submitted his letter of resignation to the board yesterday. Smith-Hanes' last day with the county will be Jan. 29, 2016. Beck will replace DHHS Director Phillip R. Crandall, who will retire Dec. 28 after 31 years of service.

Dillingham has worked for the county for more than 28 years and served as Assistant CAO since 2012. Beck has worked for DHHS for 20 years, the last three as Assistant Director, Administration.

Dillingham and Beck will serve in their posts until the Board makes permanent appointments.