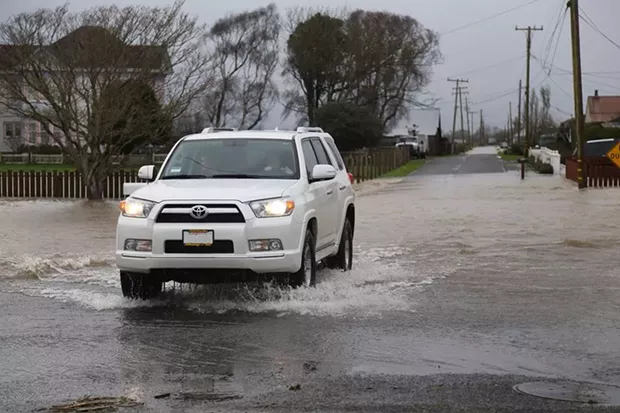 Merry Christmas from Mother Nature! We are at 126 percent of normal rainfall for the year, according to National Oceanic and Atmospheric Association meteorologist Bob Ruehl.
The normal amount of rainfall, measured from Oct. 1 through Dec. 21, is 13.53 inches. This year, NOAA measured 17.59 inches. December alone has brought 11.53 inches, three inches more than normal.
The cause, according to Ruehl, is what's called an "atmospheric river," an area of pressure bringing tropical moisture into the area. And it spells rainy conditions for this holiday week, with showers lingering through Christmas and most likely clearing Saturday. Any chances of a white Christmas? Nope, said Ruehl, unless you're a Trinity County resident.
The urban and small stream flood advisory (read: some roads will be ponds, some ponds will be rivers) is due to be lifted this afternoon, but Dorie Lanni, emergency services manager at the Humboldt County Office of Emergency Services, warned that several rivers are still close enough to flood stage that the Sheriff's Office is expected to send out a warning this afternoon. Flooding is expected in some low lying areas, and people are "strongly advised" not to drive into flooded areas.
"Check your windshield wipers, check your oil, check your wipers," said Betsy Totten, public information officer at Caltrans, adding that crews had been out all weekend clearing culverts in advance of the storms. Slides in rural parts of the county can also be an issue. As we spoke, Caltrans had just closed north and southbound exits for Hookton Road, near Loleta.
For other wet weather driving tips, we called Humboldt Driving School, where co-owners Jim and Virginia "Ginny" Reeves, have coaxed nervous teenagers through puddles for almost two decades.
"There are a few things you can do to be safe," said Ginny Reeves. "Slow down, get the big picture, be on the defensive for somebody doing something stupid."
What kind of "stupid" things should we look out for? The usual, said Reeves. Using the wrong lane for a turn, stopping suddenly, cutting other drivers off. All of these bad driving behaviors are exacerbated when it's raining. Sometimes, people don't see puddles, or they hit a patch of water while speeding and start to hydroplane.
If you begin hydroplaning, which is when a layer of water prevents proper traction with the road's surface, Reeves stressed that it's important not to slam on the brakes. Take your foot off the accelerator, and "just kind of go with it, if you're in a real hard hydroplane," she added.
Visitors and newbies unused to the wall of water that marks a real Humboldt downpour sometimes slow down to a crawling pace on our roadways. Reeves said this is a mistake.
"People don't expect you to go that slow," she said, adding that our more rural areas can be the most treacherous. "The backroads, such as Old Arcata Road, going toward Loleta and Ferndale, can probably be the worst because people are very, very impatient. You'd think Broadway would be the worst … but it's more predictable in some ways."