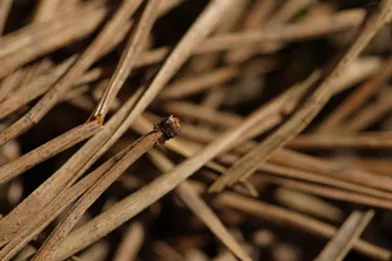 Thinkstock
Is someone needling you to do the holiday clean up?
Oh Christmas tree, oh Christmas tree, you've outlived your usefulness! Below are all the places in Humboldt County where you can drop off that gaudy fir corpse that is now shedding pieces of itself on your tinsel-strewn floor. Thanks to Humboldt Waste Management Authority for the head's up. Most of these disposal areas are free if you get the tree in before the second week of January (ahem), and a few organizations even offer pick up for a small fee.
Are you dreading hauling all those boxes up to the attic? Thinking about taking most of them down to the second-hand store and starting fresh next year? Get ready for disappointment, because a lot of thrift stores put up signs announcing a war on Christmas ornaments this time of year.
"They're overwhelmed," says Shirley Lane-Grim, owner of the Cuddly Bear Thrift Store in Fortuna. Lane-Grim and most of her cohort put out decorations to tempt people during the holidays, but have no problem turning away boxes of ornaments after Dec. 26. "I don't take them during the year anymore. I have no room in the store."
Down the street, another second-hand shop, Tabitha's Place, usually holds a Christmas-in-July sale to divest of its festive overstock.
"Americans produce a quarter more trash [than usual] between Thanksgiving and Christmas," says Tibora Girczyc-Blum, director of SCRAP Humboldt. "I think that some people go for a new theme every year and start fresh. They style up, find wrapping paper that matches the tree."
SCRAP encourages "creative reuse," and while they may take some of your nicer vintage ornaments, chances are they don't want your motion-activated Elvis Santa. Girczyc-Blum says next year, instead of buying new, check out SCRAP first. They have classes to help you and the little ones make your own ornaments out of upcycled materials, and stock plenty of cards and wrapping paper.
From HWMA:
Once the holidays come to a close and your ornaments and lights are returned to storage, don't forget that your Christmas Trees can be returned too. Trees can continue their useful life after the holidays by being recycled and maximized as a resource rather than a waste. All Christmas Trees collected at the locations listed below will create compost or energy. Return your tree to one of the following drop off sites at no charge; you do not need to be a city resident to use the drop off in that city. Christmas tree pick up is available in some communities through garbage haulers or volunteer groups. Collection dates vary by community. Remove all decorations and tinsel from your tree.

Arcata
Free drop off at Wes Green's Mad River Compost Facility, 6360 West End Road from December 26 through the end of January Open hours are Monday - Friday, 8 a.m. – 5 p.m. and Saturday 9:00 a.m. - 4:00 p.m. Arcata High students raising funds will pick up trees curbside for $10, December 26 - Sunday, January 11. Call (707) 822-8325.

Blue Lake
Free drop off at Prasch Hall, near baseball fields, December 28 -, January 15.th

Eureka
Free drop off at HWMA's Transfer Station, 1059 W. Hawthorne St., December 26 - Monday January 11 during open hours. Hours are Monday - Friday, 7:00 a.m. - 5:00 p.m., Saturday 8:00 a.m. - 4:00 p.m. and Sunday 10:00 a.m. - 4:00 p.m. Commercial trees do not apply. Recology picks up trees in Eureka and surrounding county areas January 2nd and 9th for $5. Call (707) 442-5711 for an appointment.

Ferndale
Free drop off at the City Barn, Francis St., from December 26 - Friday, January 8th.

Fortuna
Free drop off at Eel River Disposal's Transfer Station, 965 Riverwalk Dr., December 26 - Friday, January 15. Call (707) 725-5156 for open hours. Don't have greenwaste pick up? Eel River Disposal collects trees for $12.

McKinleyville
Free drop off at Humboldt Sanitation's Transfer Station, 2585 Central Ave, December 26 - Sunday, January 17th. Call (707) 839-3285 for open hours. Arcata High students will collect trees for $15. See details under 'Arcata.'

Rio Dell
Free drop off at Eel River Disposal's Transfer Station, 965 Riverwalk Dr., December 26 - Wednesday, January 15. Call (707) 725-5156 for open hours. Eel River Disposal picks up trees curbside for $12.

Trinidad
Free drop off behind Murphy's Market, December 26 – through January 17th

For additional information , please call our business offices from 8:30 AM until 4:30 PM weekdays. Thank You and Happy Holidays. Brent

Brent Whitener
Operations Manager (Acting)
Humboldt Waste Management Authority
1059 W Hawthorne Street
Eureka, CA 95501
Office 707-268-8680 Ext 211 Cell 707-599-5762
bwhitener@hwma.net bwhitener.hwma@gmail.com