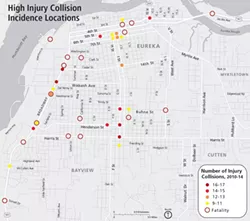 A map of some of Eureka's most dangerous intersections. Click to enlarge.
An unidentified bicyclist was hit and killed by a pickup truck yesterday evening at F and Trinity streets in Eureka.
According to a Eureka Police Department press release, the cyclist was traveling north on F Street and ran a stop sign and traveled directly into the path of an oncoming 1971 Chevrolet pickup truck that was heading west on Trinity Street. The cyclist, who was not wearing a helmet, suffered major injuries and was later pronounced dead at a local hospital.
Officials are still working to notify the bicyclist's family of his death, after which they will release his name to the public.
Last year, Humboldt County roads saw a total of 28 deadly car crashes. Read more about the countywide problem
here
, and check out or recent reporting of what Eureka is doing to address some of its most dangerous intersections
here
.
The full EPD press release:
On 01/28/16 at about 5:17 p.m., Officers with the Eureka Police Department responded to F and Trinity Streets in Eureka for the report of an injury traffic collision involving a bicyclist and a vehicle. The bicyclist was transported by ambulance to the hospital, but ultimately succumbed to his injuries.

The preliminary investigation indicates that the vehicle, a 1971 Chevrolet pickup, was traveling west on Trinity Street with the right of way. The bicyclist was travelling north on F Street and failed to stop at the posted stop sign. The bicyclist rode into the path of the vehicle and was struck in the intersection. The bicyclist was not wearing a helmet.

DUI is not a factor in this collision. The bicyclist's name will be released by the Coroner's Office once the next of kin has been notified. This is an ongoing investigation; any witnesses to this collision are asked to call Traffic Officer Tim Jones at (707) 441-4109.