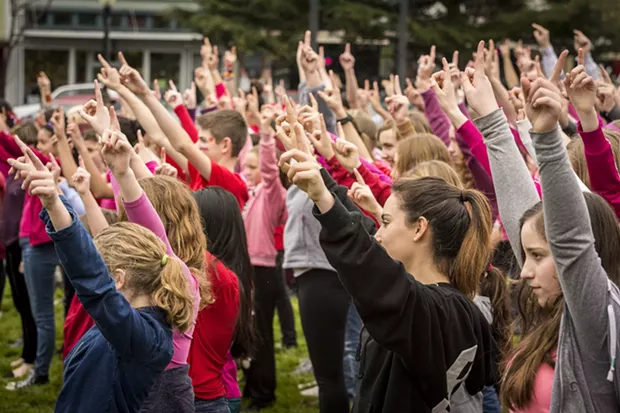 Mark Larson
Hands go up on the Arcata Plaza at One Billion Rising.
Rain quit just in time for over 100 people of all ages (mostly Arcata elementary-school students) dancing to Katy Perry's "Roar" to celebrate One Billion Rising at the fourth annual V-Day Humboldt on the Arcata Plaza on Friday, Feb. 12. See the slideshow below for highlights from the event.
Ann Youmans, a teacher at Sunny Brae Middle School, led the enthusiastic dancers through the performance. She had choreographed the dance moves and led practices with her students.
"We're here today to raise awareness about sexual violence, raise money and to get people inspired," said Megan Johnson of Bayside. The group was also publicizing auditions for its benefit performance of the ensemble play
Emotional Creature: the Secret Life of Girls Around the World
, to be held in April as a fund-raiser for the local Raven Project, and which Johnson will direct. The play is written by playwright and activist Eve Ensler, best known for her play
The Vagina Monologues
which has been performed locally for the last three years.
Ensler began One Billion Rising in 2012 as part of her global V-Day movement to end rape and sexual violence against women. The movement's title cites the U.N. statistic that one in three women, or about 1 billion, will be raped or beaten in their lifetimes.
9 slides