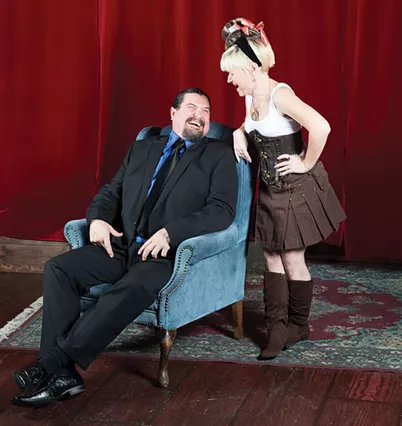 Mark McKenna
Whitefeather Trotta and Nawdy Little Girl, pillars of the kink community.

Busy week? You'll catch up. Here are five things that didn't make it into the cover story "The Party People." You know, in case you're wondering.
When the Impropriety Society — or "Imps" — former hosts of large-scale,
pan-kink sex parties
in Humboldt County, decamped for Portland, a few individuals and organizations picked up the torch to keep the events going. These days the parties are run by Sex Positive Humboldt, headed up by Whitefeather Trotta. Both Trotta and Nawdy Little Girl, another player in the local scene, are trying to take kink and BDSM (bondage, domination, sadomasochism) out of the dark and to the people.
1. Sex Positive Humboldt's parties are, like those before them, "neutral ground" — feuding neighbors, business rivals, cops and criminals all leave their baggage at the door if they want to stay. And, at least according to Trotta, they do. One item on the three-page waiver one must sign to enter is a non-disclosure rule — no outing your fellow guests. Trotta says that, due to the mutually assured destruction of implicating oneself by gossiping, there have only been a couple of leaks over the years. While SPH could technically file suit (the waiver was drawn up and reviewed by volunteer lawyers), "a conversation" with any sex-party Snowdens has proven a better approach.
2. Several sex party and Fetish Night (a public event at which no sex takes place) attendees mentioned that they felt completely safe at the events and that the rules and protocols ("only 'yes' means yes") teach and enforce the importance of consent.
3. One of Trotta's submissive partners is what's known as a "baby girl," an adult woman who calls him "Daddy" and for whom he serves as an authority figure. While she is obedient to him in their relationship, even allowing him to pick out her clothing, she is anything but submissive in the outside world. In fact, talking with the assertive 25-year-old, who is a case manager at a residential health facility, is a bit like going on a pleasant job interview for a position you are not going to get.
4. Nawdy recommends talking with your partner(s) and learning some basics before launching into BDSM play to prevent injury, and to always aim for the "meaty parts" when flogging, spanking or paddling — buttocks and thighs, for example, never the kidneys or tailbone. And rope is tricky stuff, too. Stick to hemp and cotton rope, never nylon. The
next Fetish Night
is scheduled to have some bondage rigging, as it's called, if you're curious.
5. Trigger warning, folks ... It's about to get a bit explicit. Everyone interviewed gave the same response when asked to recount the wildest thing they ever saw at a Humboldt sex party: a pair of women performing a two-handed vaginal fisting at an Impropriety Society party. "It's not something you see every day," says Trotta. Indeed.
Read the cover in its entirety — and add your comments — at this link.