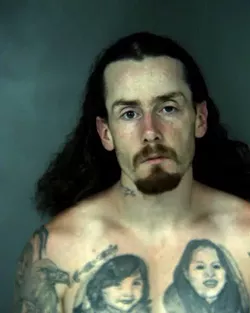 By the time a Humboldt County Superior Court judge agreed to release Jason Anthony Warren from jail on Aug. 24, 2012 to allow him to get his affairs in order prior to being sentenced to a six-year state prison bid for illegally possessing a firearm, the then 27-year-old Warren had already amassed a criminal record that included 18 run-ins with the law.
After being released from custody by Humboldt County Superior Court Judge Timothy Cissna at the request of his defense attorney — and without any objection for the district attorney's office — Warren failed to show up for his sentencing hearing two weeks later. Then, on Sept. 27, 2012, Warren tortured and murdered Dorothy Ulrich in her Hoopa home before driving to Eureka and intentionally running down three joggers from behind, killing Suzanne Seemann and seriously injuring the other two.
A pre-sentencing probation report filed after Warren's conviction details how he was born into poverty, the son of a heroin addicted mother and a father he never met in Eureka, and that he has been in trouble with the law since the age of 6. The report also brings into sharp focus old questions about why Cissna agreed to let Warren out of custody in August of 2012, and why the district attorney's office didn't oppose Warren's request.
According to the report, Warren was born Sept. 20, 1984, "the product of a casual relationship between his mother Lynn Ann Warren … and Terry Hartman." However, the report notes that Warren's mother was married to another man — Paul Warren — at the time of Jason's birth. "Defendant said he never met either man."
When Warren was 5, his mother — who the report notes was a heroin addict from the age of 15 — was sentenced to serve two years in prison for drug possession and Warren went to live with his maternal great aunt, Lillian Hickey. While Warren spent his early years in Eureka, he moved out to Hoopa with Hickey at the age of 9. According to the report, Hickey supported herself and Warren with the assistance of a federal welfare program.
By the time Warren relocated east, he'd already been in trouble with the law. According to the report, shortly before his 7th birthday, he was contacted by police for dumping liquid soap all over the bathroom of a Pro Sport Center and attempting to steal a knife from the store.
After the move, Warren seems to have gotten in an escalating string of trouble: at 10, he was contacted for throwing candy at a residence; at 11, he was arrested for taking Hickey's car without her permission and joyriding; at 12, he brought an unspecified weapon to school and tried to sell it, and later was arrested for stealing several items from the Bayshore Mall; at 13, he was caught placing a 40-ounce bottle of beer under his coat and trying to steal it from Ray's Food Place in Hoopa.
It was after Warren's 14th birthday that his behavior began to turn violent, according to the report. In December of 1998, he assaulted someone at Hoopa High School. After the assault and battery, he was removed from Hickey's care and retained as a ward of the court, which sent him to live at Crystal Creek Regional Boys Camp for an unspecified amount of time. It doesn't seem to have done much good as he was arrested two months later for again assaulting someone on school grounds — this time twice in one day — and resisting an officer. This led to another unspecified stint at Crystal Creek.
Three arrests followed in 1999, for stealing some basketball shoes out of a student's locker at Hoopa High, for throwing a rock at a car and for marijuana possession. In February of 2000, he was arrested for throwing someone to the ground, kicking them in the head and repeatedly hitting them in the face with a closed fist. A month later, he pulled a knife on a fellow student at Hoopa High, leading to his first stint in juvenile hall, according to the report.
In 2001, before Warren's 17th birthday, he was arrested for burglary — breaking into the Klamath-Trinity Unified School District compound yard and stealing gas from a van — and for domestic violence and assault with a deadly weapon after he assaulted his pregnant girlfriend. She later gave birth to Warren's son who is now 14.
But all those arrests would pale in comparison to what happened on April 10, 2001, when in a fashion hauntingly similar to the murders in 2012, Warren caught a cab driven by Cid Miller. While riding through McKinleyville, Warren — for no apparent reason — attacked Miller from behind, stabbing him in the back, shoulder and chest before Miller dove from the moving vehicle. Warren then took the cab and attempted to "run down two young men on bicycles in Arcata" before attempting to run down a pedestrian near Blue Lake. For the second time in a year, Warren was sent to the California Youth Authority. While in custody there in December of 2001, Warren attacked another detainee who made some "antagonistic comments regarding [Warren's] son," according to the report.
According to the report, Warren was released from the academy in 2006 and resided in Eureka. His first arrest as an adult came at the age of 22, when in April of 2007 he was picked up for being a felon in possession of a firearm and sentenced to 32 months in prison. After his release, he violated the conditions of his parole four times, according to the report.
Then, in March of 2012, Warren was accused of being a felon in possession of a firearm and assault with a deadly weapon. After some months in jail, on Aug. 24, 2012, Warren entered into a plea agreement that was a bit complicated due to his request for a Cruz waiver, which allows a defendant who has pleaded guilty to be released from custody until the time of his sentencing in order to get his or her affairs in order before incarceration. The agreements carry the threat of a heftier sentence if the defendant fails to return to jail when they are ordered to.
Under the terms of Warren's agreement, he pleaded guilty to both the assault with a deadly weapon and firearm charges. If he showed up at his Sept. 7, 2012 sentencing hearing, as ordered, the assault charge would be dropped and he would be sentenced to six years in state prison. If he failed to show up, the assault charge would remain and he'd be sentenced to three additional years in prison.
On Aug. 24, 2012, Warren appeared before Cissna and entered the pleas. According to an article in the
Two Rivers Tribune
, Deputy District Attorney Zach Curtis, who appeared at the hearing for the DA's Office, was asked to explain on the record his reasons for not opposing Warren's release under the Cruz waiver. He declined, and Cissna accepted Warren's pleas, granted the Cruz waiver and ordered him released from custody, to return in two weeks time for sentencing.
He never did, and on Sept. 27, 2012, he murdered Ulrich and Seemann in what's been described as one of the most horrible crimes in recent Humboldt County history. In his interview with a parole officer for the pre-sentencing investigation report, Warren declined to discuss the events surrounding the killings, on the advice of his attorney.
"The ripple effect of defendant's actions have reverberated through this community and will be felt for years, if not generations to come," the probation report states. "Two young children and their father are without the loving mother, and wife they deserved to have raise them and grow old with. Defendant's lifetime incarceration cannot heal that void or bring back their loving mother and partner.
… Defendant has contributed nothing to this community or to society as a whole and has left a wake of destruction in his path. These victims were all accomplished, positive, productive members of this community, and this community will forever be deprived of their best efforts to create a better community for all."
Warren, who is now at Deuel Vocational Institution in Tracy, which acts as a reception center for the state prison system. According to Humboldt County District Attorney Maggie Fleming, the prison is currently holding Warren on his case from March of 2012. As soon as it receives his final sentencing papers from the double murder case, he will be transferred to a maximum security prison.
Editor's Note: This story was updated from a previous version to correct the title of the California Youth Authority.