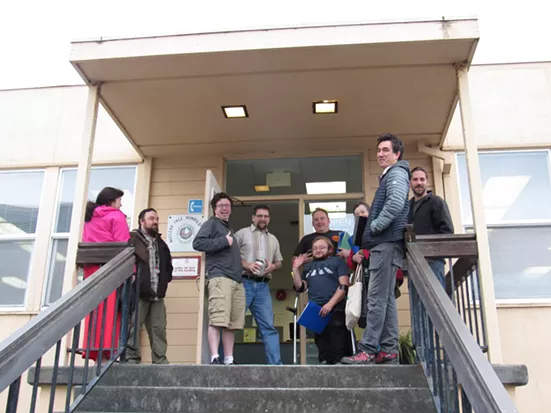 Linda Stansberry
Farmers were waiting to file before the department even opened its doors.
A small crowd clustered at the top of the stairs of the Humboldt County Planning Department on Friday morning, waiting for the doors to open. In their hands, they clutched their land use ordinance permits for medical marijuana cultivation.
"We've been gearing up all week for a big day," said Rob Wall, interim planning director, saying extra staff were on duty to help local farmers file.
"You guys are taking cash, right?" asked someone in line, prompting a ripple of laughter.
Wall assured them that they were. The $150 deposit paid to the department goes toward a two-hour meeting with a county planner to discuss the application and any changes that need to be made to the operation seeking licensing.
A young couple from Willow Creek, who only wanted to give their first names, Sam and Matt, said they were "really excited" as they waited in line.
"We're feeling as prepared as we could be. The application is about an inch thick," said Matt, adding that his wife had prepared most of it, including information about their labor practices, a site map and much more. "It was a lot of work."
"And a lot of hope," added Sam. "Being here, it's a mixture of weird and exciting."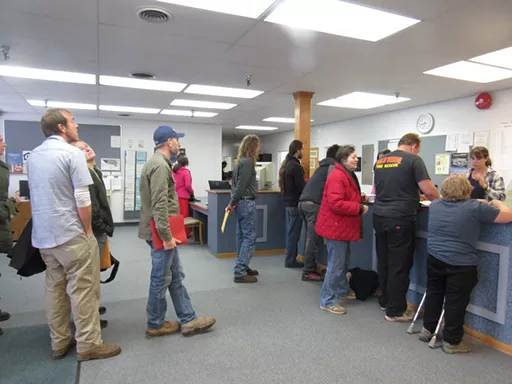 Linda Stansberry
The first applicants of the day wait in line to submit their applications at the County Planning Department.
The emotions of Rain on the Earth, a 71-year-old farmer from Garberville, were less diluted.
"It feels incredible," she said. "This is a real turning point for the state and county. We've been wanting to come out of the shadows for a long time."
Rain's great-nephew, Myles Moscato, was the first person to file an application, along with his aunt and father. The three generations were shepherded up to the counter by Wall as Luke Bruner, boardmember of California Cannabis Voice Humboldt, enthusiastically took pictures of the proceedings.
"History being made!" said Bruner.
Linda Stansberry
Three generations of growers, Rain on the Earth with her nephews Mark Switzer (far right) and grand-nephew Myles Moscato (center) pose with Wall as Moscato proudly holds the receipt for his application, the first submitted in the county.