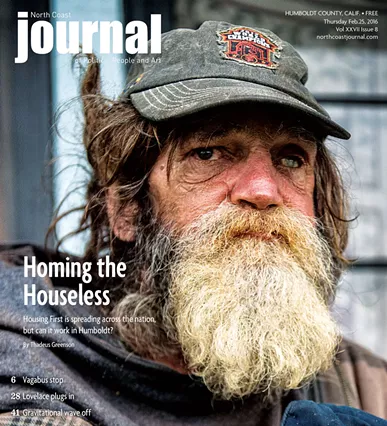 Busy week? We get it. Here are some highlights from "Homing the Houseless" to get you caught up. (And a few things that didn't make it into the issue.)

With the Humboldt County Board of Supervisors and the Eureka City Council slated to vote Tuesday on a joint-resolution that would pledge the two governments' dedication to using the Housing First philosophy to address chronic homelessness, our cover story this week takes a look at the approach, from its inception in New York City to its roll-out nationwide. The philosophy has proven remarkably successful elsewhere — praised by bleeding heart humanitarians and fiscal conservatives alike — but can it work in Humboldt? Here are six things you need to know:
1) Housing First is at once deceptively simple and enormously complex. For decades, the prevailing approach to helping homeless people was centered around getting them housing ready: helping them get clean, sober, mentally stable and, to some degree, employable while they are still homeless. Housing First, the brainchild of a New York psychologist, turns that upside down, working from the dual premise that safe housing is a basic human right and that it's nearly impossible to get someone sober and mentally stable while they are sleeping under a bridge or behind a bush. Housing First holds that the most successful way to help the homeless is to give them a home, no strings attached.
2) "It's Housing First, but certainly not housing only." So says Sam Tsemberis, the aforementioned New York psychologist. Where it has been implemented successfully, Housing First has relied on a network of case managers, psychiatrists, therapists, medical doctors and others to help keep the formerly homeless in their new homes through regular visits, appointments and checkups. Tsemberis and other say the key is personalization, getting to know the client and his or her needs, and coming up with a plan to ensure success. In some cases, this might necessitate daily visits to make sure a client is taking psychiatric medications, while in others it may mean weekly help with grocery shopping and transportation to doctor appointments.
3) Where Housing First has been implemented, it's been incredibly successful: Buffalo, New York, one of the poorest cities in the country, has reduced chronic homelessness by 95 percent in four years; chronic homelessness among military veterans has dropped 36 percent nationwide in three years; and chronic homelessness in the state of Utah has been almost eliminated, plunging 91 percent in 10 years to the point where, now, there are less than 200 chronically homeless people in the entire state. In each of these cases, agencies report that more than 75 percent of the people placed under Housing First remained housed after a two-year period. Studies also show the philosophy is more cost-effective than caring for the homeless out in the elements. In Seattle, for example, a study showed that Housing First was 53 percent more cost effective, with taxpayers saving nearly $2,500 per person, per month. In Denver, a study found that the cost of providing the homeless with emergency services — detox treatment, incarcerations, emergency psychiatric hospitalizations, inpatient medical care and emergency room visits — dropped 73 percent in two years under Housing First, saving an average of $31,545 per participant, even after the costs of housing, case management and other care were included. Officials also claimed the philosophy resulted in cleaner streets and better emergency services, as it freed police, fire, medical and public works employees from the burden of dealing with entrenched homeless encampments.
4) Housing First is challenging to fund. The philosophy asks clients to pay 30 percent of whatever income stream they have — generally supplemental security income — toward their rent. The rest has to be paid through other sources, generally grants, private funding or local government general fund dollars. And that's just in situations where the required housing stock already exists. In Utah, Housing First's most grandiose success story, the state was flush with funds to leverage federal grants, the Mormon Church and its members willingly donated, and the private sector was quick to invest in new housing developments.
5) There are some notable things about Humboldt County and its homeless population, especially in Eureka. Nationwide, the average community reports that about 1 percent of its population is homeless. In Eureka, that number spikes to about 2.7 percent. Across the nation, statistics show about 70 percent of the homeless population is sheltered, spending nights under a roof, whether in a shelter, a friend's house or a motel. In Humboldt County, about 64 percent of the homeless population is unsheltered. Nationwide, just 15 percent of the homeless population is classified as "chronic," meaning they've been homeless for more than a year; in Humboldt that number jumps to 69 percent. That means the depth and scope of Humboldt's homeless problem are different. Meanwhile, both the city of Eureka and the county of Humboldt scrambled to address structural budget deficits, which means that — absent a large-scale reprioritization to throw money at Housing First — neither government has much to spend. (A consultant advising the city and the county is recommending they begin by looking at existing vacant units and working with local landlords, and some local officials are asking the community to make mother-in-law units and even extra rooms available for the effort.)
6) Housing First is already being implemented, and working, locally. Arcata House Partnership, which runs an Apartment First program, has about 20 people it has successfully housed around town, including Brad Saxenhaus, who credits Arcata House's giving him a place to stay a decade ago with saving his life. Meanwhile, the Humboldt County Department of Health and Human Services has about a dozen clients in permanent supportive housing, a number of whom were placed using a Housing First approach. And perhaps most noteworthy, the Arcata Bay Crossing, a 30-unit property unveiled last September, was almost entirely filled with Housing First clients. Six months later, almost all of them remain housed. "These are the neediest of the needy, and they're all still housed, which is really big," said Arcata House Executive Director Darlene Spoor.
Want to know more? Then check out the full story
here
.