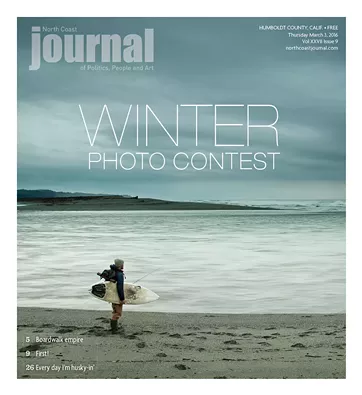 Busy week? We get it. Here are some highlights from this week's cover story to get you caught up.
This week's
cover story
showcased the top 10 finishers in our Winter Photo Contest and, frankly, it taught us a few things – and reinforced a few others – about why we call Humboldt home. In all, we received 151 entries from 52 people, with Sean Jansen's stunning and quintessentially Humboldt timed shot of himself standing on the beach, eyeing a dark, ominous sky with surfboard and fishing rod in hand, taking the top honors. As Sean contemplates what to do with his winnings – Dick Taylor chocolate, wine and a night's stay at the historic Benbow Inn — here's a quick look at the takeaways from our Winter Photo Contest.
1) Snow in Humboldt is kind of a big deal.
You guys love it. You love playing in it, sledding down hills of it and balling it up and throwing it at one another. You also love photographing it, as evidenced by 25 contest entries.
2) Rainbows!
Humboldt is the land of stunning rainbows, the kind that explode in color while arching across our gorgeous landscapes.
3) We're pretty good at pausing to enjoy a good sunset.
Whether it's through a Smirnoff bottle (you stay winning, Rose Maxwell), the windows of a plush vacation rental or a crab claw, we appreciate a sky splashed with color as the sun plunges into the Pacific.
4) We're a hardy bunch.
Whether it was a Coast Guard cutter splashing through a rough sea, an old sedan sludging through a flooded road or a cat tromping through neck-high snow, it's clear it takes more than a little winter to knock us off our game.
5) A real winter is pretty awesome.
We're glad to have it back.