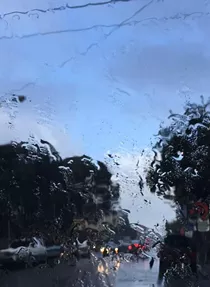 Grant Scott-Goforth
Raindrops keep falling in Eureka.
In the midst of a historically wet winter, and after being pummeled by rain, hail, lightning and thunder last night, Humboldt County's in for a bit of a break. Kind of.
National Weather Service Meteorologist Shawn Palmquist said the area should see showers taper off throughout the rest of today. Tomorrow should be mostly dry, he said, with a weak front moving in tomorrow night that may bring some light rain or drizzle into Thursday morning. Then, Palmquist said, it looks like things should be dry through the day Saturday and into Saturday night, when another weak front could bring some light rain into Sunday morning, potentially dampening Easter egg hunts throughout the county. A storm front in the forecast for early next week could see decreasing temperatures and more rain, he said, though he cautioned the outlook can change quickly.
"Our weather models have kind of been all over the place, so I don't have much confidence in that," he said.
What can be said with certainty is that Humboldt County is having a very wet winter, on the heels of a historically dry two-year spell. Palmquist said the Eureka weather station had recorded 7.65 inches of rain so far this month as of midnight last night. That's more than twice the normal of 3.74 inches. Last year, the station recorded just .88 inches over the same time period.
Since the Oct. 1 start of the water year, the area has recorded 43.41 inches of rain, almost 20 more inches than were recorded over the same period last year. For reference, we recorded just 16.6 inches of rain in all of 2013. The 40-year average is 40.33 inches.
And, for those keeping score at home, the most rainfall ever recorded in a water year in Eureka was 67.21 inches in 1983. That leaves us 23.8 inches short with a little more than six months to go.