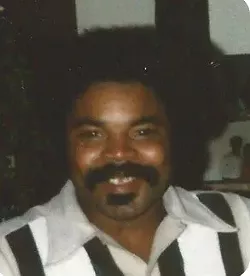 Courtesy of Thomas' family
Terry Lee Thomas
The Eureka Police Department has arrested a 24-year-old on suspicion of involuntary manslaughter for the September death of a local homeless man, Terry Lee Thomas.
Thomas, 63, was found bloodied and unresponsive shortly after 8 p.m. on Sept. 8 in the parking lot of the Courthouse Market in the 900 block of Fourth Street. He later died at a local hospital and an autopsy ruled his death a homicide.
Yesterday, police arrested Nathan Layton Johnson, of Eureka, for Thomas' killing and unrelated allegations of domestic battery and vandalism.
According to police, Thomas and Johnson got into a verbal altercation outside the market before Johnson punched Thomas in the face, causing him to fall to the ground. "It appears his death was a result of the fall," EPD Sgt. Kay Howden told the
Journal
in a previous interview. "He was punched, causing him to fall, resulting in severe head trauma."
Johnson reportedly called 911 after Thomas fell, telling dispatchers about the altercation and that it left Thomas lying unresponsive on the ground. Johnson was reportedly cooperative with police.
See the full press release from EPD copied below and prior
Journal
coverage
here
.
On 09/08/15 at about 8:08 p.m., officers with the Eureka Police Department responded to a parking lot on the 900 block of 4th St. for the report of a physical altercation. The caller reported that he was involved and that the victim, Terry Lee Thomas, was lying on the ground unresponsive.

Officers found Thomas lying on the ground, unconscious and bleeding from the head and face. Thomas was transported by ambulance to the hospital where he later succumbed to his injuries.

On 03/24/16, after a thorough investigation into the incident, Nathan Layton Johnson, 24 of Eureka, was taken into custody and charged with involuntary manslaughter. He was also charged with unrelated charges of domestic battery and vandalism. Johnson is currently in custody at the Humboldt County Correctional Facility awaiting trial.