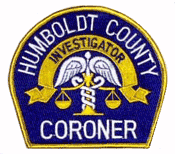 Christopher Duke, 55, was probably already deceased when parties unknown unloaded his body into the shadows at the end of the driveway of Jerold Phelps Community Hospital in Garberville.
"The upper part of the body was wrapped in a sheet, including the face," says Kent Scown, the hospital's chief operating officer. "It is an odd circumstance. I've been here a very long time and I don't recall anyone dropping off someone in that manner, and having a staff member find someone."
The exact time and manner of death is unknown, as the Humboldt County Coroner's Office prepares to do an autopsy tomorrow. Deputy Coroner Trevor Enright says the death is unlikely to be related to foul play, although his office is investigating the possibility of both a drug overdose and/or mitigating health factors.
"He is considered to be homeless," says Enright. "He's been around the area for some time ... in Garberville for something like a decade."
The person or persons who left Duke's body at the end of driveway did not notify hospital staff of their presence. Although there are medical staff on duty all night, they chose instead to leave his body at the very end of the 55-foot driveway, where the hospital's security staff found it in the early hours of Monday morning. Scown said he did not yet have a report from staff about how long the body had been there before it was found. Security camera footage captured a glimpse of the car, but due to a burned-out streetlight the faces and identifying features of Duke's companions were not identifiable.

From the Humboldt County Sheriff's Office:
On Monday, March 28, 2016 at about 2:10 a.m. a Humboldt County Deputy Sheriff and a Deputy Coroner responded to Jerald Phelps Hospital in Garberville for a report of a dead body found outside the hospital's emergency room. Deputies arrived on scene and spoke with the security guard who had found the body. The security guard stated he located the body near the emergency room entrance. The body was unresponsive and declared deceased by medical personnel.

The decedent has been positively identified as a 55 year old Garberville resident. The release of his identity is pending notification of next of kin.

The Coroner's Division is actively investigating this incident. An autopsy is scheduled for Wednesday, March 30, 2016.

Anyone with information for the Sheriff's Office regarding this case or related criminal activity is encouraged to call the Sheriff's Office at 707-445-7251 or the Sheriff's Office Crime Tip line at 707-268-2539.