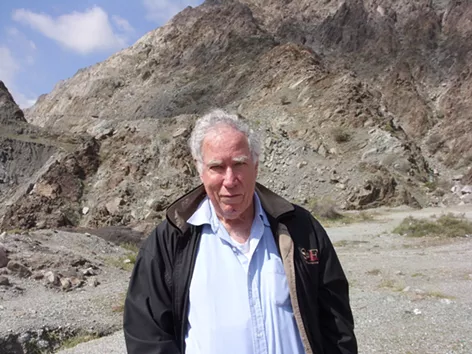 submitted photo
Orville Tyler Magoon
While his legacy in Humboldt County may live in for another century or more, Orville Tyler Magoon, the engineer who rebuilt the Humboldt jetties, has died. He was 87.
Magoon, who was featured in the
Journal
's Dec. 19, 2013 story "
Treacherous Maw
," came up with the idea of reinforcing Humboldt's notoriously crumbly jetties with dolosse, massive, steel reinforced concrete forms modeled after a goat's ankle bone. The Army Corps of Engineers would go on to pile 6,000 of the 42-ton dolosse around the jetties' heads, which in 1977 drew the designation of being a historical civil engineering landmark. The jetties are still holding strong, 45 years after the dolosse were installed. And, in a 1994 interview with the
Times-Standard
, Magoon said that, with proper maintenance, the reinforced jetties should hold up much longer than 100 years.
For more information about the jetties, read "Treacherous Maw"
here
. And for more about Magoon, including memorial information, see the obituary supplied by his family and copied below.
Orville Tyler Magoon, the Passing of a Giant (July 18, 1928 – March 19, 2016)

On March 19 in Santa Barbara, after a cruise to Hawaii, his beloved birthplace, Orville Tyler Magoon passed into history. He was surrounded by his wife and children. His life was one dedicated to our planet and its coastal treasures and to the people who surrounded him.

After his retirement from the Army Corps of Engineers in 1983 as a coastal engineer, he continued to dedicate his life to finding solutions to coastal issues, all the time managing the family estate winery in Lake and Napa counties, called Guenoc, and once owned by Lillie Langtry, British actress and legend. Guenoc and Langtry Estates vineyards and winery was producing over 100,000 cases of Lake County wine by 1999, on the property extending from Butts Canyon Road near Middletown across the line into Napa County. Magoon was a member of the Lake County Grape Growers Association, Les Amis du Vin, Supreme Grand Knight of the Brotherhood of the Knights of the Vine, the Order of Military Wine Tasters, and chairman of the Meritage Association. Magoon was affiliated with the Middletown Merchants Association, the Rotary Club of Middletown, and the Lake County Historical Society. Orville balanced his time between coastal engineering and managing the winery, which was producing award-winning wines, including the Genevieve Chardonnay named for Orville's mother and which was honored in The Wine Spectator.

In 2004 he retired from Guenoc to San Francisco with his wife, Karen. There he continued to work for better understanding of our beaches, with particular concern directed to sandmining and "Sand Rights," the importance of not interfering with the dynamics of sand movement to the detriment of coastal and beach stability. For his experience with and efforts to understand tsunamis, he was interviewed for the KQED broadcast, Scary Tsunamis.

Following his graduation from Punahou School class of 1946, Orville Magoon received his under graduate degree in Civil Engineering from the University of Hawaii in 1951 and an M.S. degree in Civil Engineering from Stanford University in 1952. After 30 years of experience in the field of coastal planning, design, construction and rehabilitation of coastal structures, Mr. Magoon retired as Chief of the Coastal Engineering Branch of the Planning Division of the US Army Corps of Engineers, South Pacific Division in July, 1983. He continued to be active in coastal zone management and coastal engineering through lectures at universities and symposia and his writing.

During his years of government service, Orville Magoon served on several committees and panels, including the Permanent International Association of Navigation Congresses (PIANC) Committee on Waves, on a number of National Aeronautics and Space Administration panels involved with remote sensing and satellite imagery of coastlines and the National Academy of Engineering.

Orville served as president of the Coastal Zone Foundation as well as vice chair of the Coastal Engineering Research Council for forty years and still had time to serve as President of the American Shore and Beach Preservation Association for ten years. In 1978 a series of Coastal Zone conferences was initiated by Orville, seeking solutions to coastal issues and held biannually, hosting up to 1,500 people. He continued to organize international, focused conferences on topics such as coastal structures, Coastlines of the World, Sand Rights, California and the World Ocean, Ocean Wave Measurement and Analysis resulting in over 60 of volumes of written proceedings.

Orville Magoon received several national and international awards during his career including the Jim Purpura National Coastal Engineering Award from FSBPA and the Murrough P. O'Brien Award from ASBPA. He also received the William Wisely, Arthur M. Wellington Prize, International Coastal Engineering Award and the Moffat-Nichol Awards from ASCE in recognition of his service to the coastal engineering and coastal zone management. His contributions to the profession were recognized with Distinguished Member of ASCE and Honorary Member of JSCE. Recognizing his devotion to students, Texas A&M University established the Orville T. Magoon Scholarship in 2003 which is given annually to one or more students who exhibit a strong interest in the field of coastal engineering and sustainability.

In recognition of his eminence in his profession, the American Society of Civil Engineers created the Orville T. Magoon Sustainable Coasts Award in 2014 which is given annually. This award is given to a leader who promotes the concept of sustainability in coastal engineering research, design, construction and management.

He is recognized by his friends and colleagues as a tireless mentor, leader, and friend to everyone. Orville loved gathering mushrooms; he loved nature and animals; cats were drawn to him as well as anyone who ever met him.

Orville Magoon is survived by his brother Eaton Harry Huha "Bob" Magoon, Jr., children Melissa, Marshall and their spouses Brian and Jena, as well as Mary and Matthew, grandson Spencer and great grandson Bradley; and Orville's wife Karen, her children Aaron and Bridget, Aaron's spouse Yvonne, and grandchildren, Uli, Matti and Mori.

Two memorial celebrations of Orville's life are planned, the first on Sunday, May 1 at 2 pm at the Unitarian Universalist church at 1187 Franklin in San Francisco, and the second on Saturday, June 18, at 1pm at the Bay Club Santa Clara, 3250 Central Expressway, Santa Clara.

In lieu of flowers, contributions can be made to the Orville T. Magoon Sustainable Coasts Award in c/o American Society of Civil Engineers, ATTN: Jane Alspach, 1801 Alexander Bell Drive, Reston, VA 20191; please mark the contribution for Permanently Restricted Fund.